OWN to Revisit 'Underground' Series in New Special
John Legend-hosted special to air Jan. 5 after debut of drama series on OWN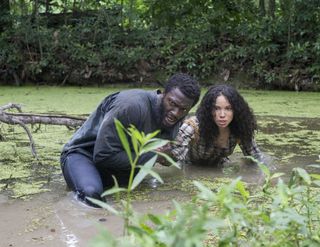 (Image credit: WGN America )
OWN will produce a January special that gives a behind the scenes look at the drama series Underground, the network said Thursday.
The special, Revisiting Underground, will debut Jan. 5 after OWN's premiere of the historical series drama, which aired on WGN America for two seasons from 2016-2017. OWN acquired the rights to Underground from Sony Pictures Television earlier this month.
Also Read: Oprah Winfrey Swaps Most of OWN Stake for Discovery Shares
The special, hosted by series executive producer John Legend, will take a behind-the-scenes look at the series, which stars Aldis Hodge and Jurnee Smollett and follows the journey of slaves running for their freedom during the 1850s.
Underground on OWN will feature a revitalized version of the series, with newly filmed episodic introductions by cast members and never-before-seen footage, according to OWN. Underground co-creators Misha Green and Joe Pokaski along with Legend and Anthony Hemingway served as executive producers of the series.
Weekly digest of streaming and OTT industry news
Thank you for signing up to Multichannel News. You will receive a verification email shortly.
There was a problem. Please refresh the page and try again.