Next TV Summit: NBCU Exec Previews Coming Enhancements to Peacock
John Jelley outlines approach to making enhancements to the user experience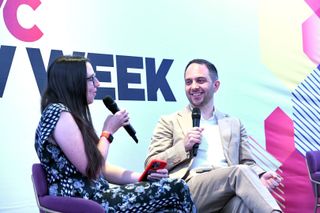 (Image credit: Future)
"Incremental enhancements really add up," John Jelley, senior VP of product and user experience, Peacock and Global Streaming, at NBCUniversal, said in a keynote interview opening up the Next TV Summit on Tuesday.
He gave as an example a "watch now" button on the Peacock streaming service that has rounded edges versus an earlier one with square corners. As it does routinely before making changes, Peacock tested different designs for the feature and saw "a significant lift in usage" for a rounder button that "feels a bit more buttony" to viewers. The new rounder-designed button came in as part of a brand refresh of Peacock.
"Whenever we're thinking about product development, we think about big features, but we also think about small enhancements," Jelley told interviewer Kerry Flynn of Axios at the summit, part of NYC TV Week.
Live sports is a big category for Peacock, which in addition to rugby, English Premier League soccer and NFL and college football carries the Olympics. A lot of work is going into enhancements for next year's Summer Games in Paris.
"We've observed that our competitors and some other players in the market are starting to think about how to showcase multiple live events in one screen," he said, "and that's something we're working on and thinking about very carefully right now. As you can imagine, for the Olympics, you have literally thousands of events and multiple, you know, up to 20, 30 at once." Having ways to easily see what are the trending events, what are the events that are the most popular events right now or the ones that have Team USA would be helpful for viewers, he said.
"We're starting to think about how could we create an experience that really allows you to discover, using multiple views of content," he said. "We're testing out and experimenting with that right now."
Peacock is adding a "catch up with key plays" feature to NFL games next month after trying it out earlier on English Premier League soccer and finding that it encouraged users to consume more content, Jelley said. "Users who consume and use this service watch about seven or so clips on average," he said.
Other enhancements that should be visible on Peacock soon include new ways to "frame" ads that pop up during live sports but don't block the game action, and targeted product placements inserted into some content. "We are also looking at shopping" and ways to enable viewers during an ad break to "opt in to a shopping experience in a way that just doesn't interrupt viewing."
NYC TV Week continues on September 13 with the Hispanic TV Summit and on September 14 with 40 Under 40.
The smarter way to stay on top of the streaming and OTT industry. Sign up below.
Kent has been a journalist, writer and editor at Multichannel News since 1994 and with Broadcasting+Cable since 2010. He is a good point of contact for anything editorial at the publications and for Nexttv.com. Before joining Multichannel News he had been a newspaper reporter with publications including The Washington Times, The Poughkeepsie (N.Y.) Journal and North County News.