Ergen: Dish Braces for More Sub Losses as GoT Premiere Nears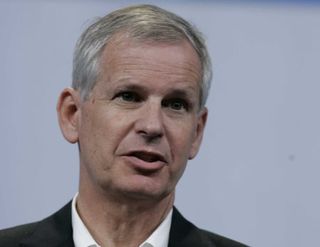 Dish Network, already taking it in the chin for losing 334,000 subscribers in Q4 as a result of a handful of channel blackouts, is bracing for more of the same as its dispute with premium channel HBO threatens to bleed into the April premier of the final season of top-rated Game of Thrones.
On a conference call with analysts to discuss Q4 results, Dish said that about half of its Q4 subscriber losses were due to carriage disputes with Univision and HBO. And while losses due to Univision, which went dark to Dish subscribers in June, started to ease after a few months, Dish chairman Charlie Ergen said they began to heat up again in November when the Spanish-language programmer's sports channel -- Univision Deportes -- went dark in November.
"My guess is that obviously Univision had a pretty dramatic drop through the summer and then started leveling off, and when soccer fans lost soccer there was probably another drop there," Ergen said on the call. He added that while HBO went dark to customers in November, so far it hasn't had programming that would spur a flurry of defections in the past two months. However, that should change on April 14, when season 8 of Game of Thrones is expected to debut.
"When Game of Thrones comes on, we may see a pick up in defections," Ergen said.
Ergen added that HBO parent AT&T has been reluctant to come to the negotiating table to work out a carriage deal. Earlier, Dish had said AT&T was retaliating against the satellite company's opposition to the AT&T-Time Warner merger.
"AT&T has taken a very anti-competitive approach to carriage because they view Dish potentially as one of their larger competitors," Ergen said. "They've made a decision not to engage in any kind of conversation that any company would realistically take. The downside for them is that customers love Dish."
Ergen added that while some Dish customers have left in the absence of HBO, he suspects others will find a way to get the premium channel.
"Some customers do leave us because HBO has a very strong brand and very strong content. But some customers find they can live without it," Ergen said. "And some customers stay with Dish and love it and they find another way to get HBO. That means that they will go to their friends' house for 10 weeks during Game of Thrones."
Or, he said, they find other means, like password sharing and piracy.
In a statement, HBO disputed Ergen's characterization, adding that it has successfully negotiated carriage deals with other distributors.
"Sadly, Dish continues to deprive its customers of HBO and Cinemax," HBO said in a statement. "Since this dispute began, we have had successful negotiations with two of our other top distributors. Dish remains the outlier. Our goal from the beginning has been for Dish subscribers to have uninterrupted access to our services and we have made more than reasonable offers in an attempt to resume carriage."
Related: Dish, HBO Ratchet Up the Rhetoric
While Ergen sees an increasingly adversarial relationship with AT&T, he said the situation with Univision is the opposite, outside of being able to reach a deal.
"And the reason we haven't been able to get to a deal is that most of our best customers who love Univision, they left or put up an off-air antenna to get the programming, They've made adjustments to view Univision or leave us to go get it. The remaining customers still like Univision but not at the level of the customers that have left. That makes it really hard to put Humpty Dumpty back together again. It's not for a lack of trying on both the Univision management's part and the Dish management's part. HBO is not trying. Univision is trying but they're different situations."
Related: Ergen: Dish Would Face Customer Backlash if Univision Returned
For Dish, that situation may only get worse. Univision has said it has attempted to return to the negotiating table countless times to hammer out a deal, to no avail. And as early as its Q2 earning call in August, CEO Vincent Sadusky predicted that a prolonged absence of an agreement could force the satellite giant's subscriber losses higher as the broadcaster unleashed its "full promotional capabilities" to convert what it believes is well over 1 million DishLatino subscribers to alternative ways to access its programming.
Ergen added that Dish is at an advantage because it can provide Latino programming packages to subscribers for $10 to $15 per month less without Univision, and provide customers with an antenna to capture the Spanish-language broadcaster's programming over the air. While that wouldn't solve the loss of Deportes, it would at least be a step.
"We have to take advantage of that because in some markets we are the only major provider that is in that situation today," Ergen said.
The smarter way to stay on top of the multichannel video marketplace. Sign up below.