Univision Stations Go Dark to Dish, Sling TV Subscribers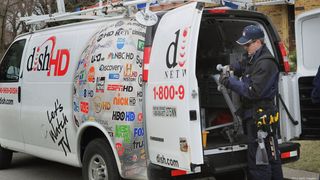 Dish Network and Sling TV subscribers were without access to Univision stations as of 5 p.m. MST across the country, as the two parties were unable to hammer out a retransmission consent agreement.
Dish had said earlier that it feared the stations would go dark after Univision abruptly walked away from the table June 29. Univision denied walking out, and said at the time it was willing to work out a deal. Unfortunately, that didn't come.
Related: Dish Says Univision Talks Reach Impasse
Dish claims that Univision is demanding a 75% increase in retrans fees, a request it found "untenable."
The satellite giant said it is offering customers affected by the blackout a free over-the-air antenna to access Univision broadcasts.
"Univision's attempted price hikes target Hispanics despite the fact that fewer members of our community are watching Univision," said Alfredo Rodríguez Diaz-Marta, Vice President of DishLATINO and Sling Latino in a statement.
Univision said it had offered a two-week extension of its previous deal to work out an agreement, but was rejected by Dish.
"Instead of fulfilling its promise to its customers, Dish has chosen to devalue our programming, disingenuously offering a fraction of what it pays our English-language peers," Univision said in a statement. "We stand ready to continue negotiations and enter into a short-term extension to restore service, especially with Dish customers missing our coverage of the Mexican Presidential Election, which many are calling 'the biggest election in Mexican history.' Dish should do right by its Spanish-speaking audiences, agree to restore service, and negotiate a good faith agreement."
Dish has pointed to lower ratings for the channels as well as Univision's failure to secure Spanish language rights for World Cup soccer as a reason not to pay the rate hike.
Univision claims its channels are among the most-watched for Dish customers, and pointed to its other soccer rights –Liga MX, MLS, Bundesliga, the Gold Cup, CONCACAF Champions League and the Mexican and U.S. national teams and later this summer will begin airing coverage of both the Champions League and Europa League to Univision Deportes and its broadcast networks.
"Dish's reference to the World Cup is an attempt to distract from the fact that Univision remains the No. 3 most-watched network on its platform and that UDN is the No. 2 most-watched sports channel on Dish," Univision said in a statement.
The smarter way to stay on top of the multichannel video marketplace. Sign up below.
Thank you for signing up to Multichannel News. You will receive a verification email shortly.
There was a problem. Please refresh the page and try again.