Dish Says Univision Talks Reach 'Impasse'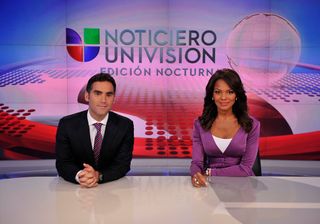 As the deadline for renewing its retransmission consent agreement with Univision Communications nears, Dish Network said talks with the Spanish-language broadcaster have reached an impasse, increasing the likelihood the channels will go dark.
Univision began warning Dish customers on June 23 that they could lose access to programming. According to the broadcaster, it began running crawls on its programming telling Dish customers to prepare for a possible blackout on June 27, but were hopeful a deal could be reached.
But on June 29, Dish said talks have reached an "impasse," following the broadcaster's "untenable" demand for a 75% increase in retrans fees even as its networks have declined in the ratings by 30% over the past five years. Dish claimed Univision abruptly walked away from the negotiating table June 29, and is preparing for the broadcaster to block its channels from Dish subscribers.
Related: Univision Warns Dish Customers of Potential Blackout
"Univision is calling for price hikes designed to impact the Latino market we have served for more than 20 years," said DishLatino and SlingLatino vice president Alfredo Rodríguez Diaz-Marta in a statement. "We are disappointed and saddened by Univision's threats to block our customers from Univision news and entertainment content, especially during such challenging times."
Dish claims that ratings for the flagship Univision channel have declined by nearly 40% since 2012, and pointed to Univision failure to secure Spanish-language rights for the current World Cup, as well as the World Cup in 2022 and 2026.
Related: Fox, Telemundo Score FIFA World Cup Rights
Dish also chafed that Univision charges consumers $7.99 per month for its Univison Now streaming app, but is demanding that Dish pay nearly double that amount for its DishLatino and Sling Latino customers to watch the same content.
"Univision is dealing with tremendous uncertainty as it faces significant business challenges, including its failure to secure rights for the World Cup," said Rodríguez Diaz-Marta. "A massive price increase on our customers is not a path forward; we remain unwavering in our commitment to those we serve. We hope Univision will reconsider its demands and help us reach a swift, fair resolution."
The list of affected local markets is available here (opens in new tab).
Univision refuted Dish's claim that it left the negotiating table, adding that it is ready and willing to resume talks. And the programmer also disputed Dish's viewership claims, adding that its broadcast channel is the third most-watched channel in any language on Dish, and its Univision Deportes is the second most-watched sports channel on the service, regardless of language.
Univision also claims that according to Nielsen data, its networks are responsible for 60% of the Spanish-language viewership on Dish's DishLatino service.
"We remain ready and willing to negotiate with Dish, but we will not roll over and let them continue to devalue the programming our already-underrepresented community relies on. Given the fact that our networks perform extremely well on their service, the question becomes: why doesn't Dish treat Univision fairly?"
The broadcaster claims Dish's earlier offers valued its programming at a fraction of what it pays English-language channels.
"With this kind of performance across Dish, all we are asking for is a deal that represents our value, rather than one that offers a fraction of what English-language programmers are receiving, Univision said in a statement. "It's clear that Dish is using traditional ratings as a distraction to keep us from asking the real question: why aren't they recognizing the value of UCI's viewership, our performance, on their service? Furthermore, why does Dish feel Spanish-language programming isn't worth paying for?"
The smarter way to stay on top of the multichannel video marketplace. Sign up below.