Dish, HBO Ratchet Up the Rhetoric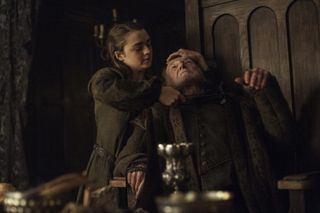 Dish Network Chairman Charlie Ergen has turned up the rhetoric in the satellite company's high-profile carriage battles with Spanish-language broadcaster Univision and premium channel HBO, calling the latter dispute a "pure anti-competitive play" by the network's parent — telco AT&T.
That was a nod to the ongoing federal appeal of AT&T's $108.7 billion purchase of HBO parent Time Warner Inc. in June, a merger to which Dish was vocally opposed. And it prompted a quick response from HBO chairman and CEO Richard Plepler.
"The notion that AT&T had anything to do with our inability to reach a reasonable deal with Dish is simply not true," Plepler said in a statement.
The HBO dispute and, to an extent, the Univision impasse have the potential to become economic barometers for carriage deals for years to come. Dish has been no stranger to blackouts, as according to the American Television Alliance Dish customers have at some point lost access to 68 broadcasters alone since 2010. Now it's drawing a line in the sand at precisely the time that AT&T is trying to redevelop the beach.
Since purchasing Time Warner, both AT&T chairman and CEO Randall Stephenson and WarnerMedia chief John Stankey have focused on engagement as a benchmark for carriage fees.
Stankey has said on several occasions the new mantra for HBO should be driving engagement and penetration. Dish, because of its mostly rural, lower-income footprint, has lighter HBO penetration than its more urban counterparts: about 20% by some analysts' estimates, compared to 30% for other pay TV distributors.
According to a New York Times report in July, shortly after AT&T closed its merger with Time Warner, Stankey told HBO employees at a company town meeting that he wanted engagement to be measured in hours a day, not hours per week or per month. He said the goal was to move HBO out of the 35% to 40% penetration doldrums.
One way to do that is to increase the carriage miniums for distributors, which Dish says HBO is trying to do. According to Ergen, HBO is trying to force a deal where Dish would agree to pay for a certain number of subscribers whether they actually take HBO or not. While he said that might have been doable two decades ago, in today's ultra competitive multiplatform video environment, it is next to impossible.
HBO and Plepler have countered that the network offered to continue carriage at the old rate while continuing to negotiate, an offer Dish first accepted and then refused.
"We're actually perplexed by their unwillingness to take this proposal as an opportunity rather than perpetuating a conflict which only hurts consumers," Plepler said in the statement. "It seems to be a silly but transparent attempt on Dish's behalf to muddy the waters for reasons only they can explain."
Add the sting of AT&T offering "free HBO for life" to its own satellite TV service — DirecTV, Dish's chief rival — as well as for its own streaming services, and Ergen said it just doesn't make sense. But Ergen said that arrangement works for AT&T whether Dish takes it or not. If Dish accepts the deal, AT&T gets paid for HBO subscribers it doesn't have. If Dish doesn't accept the deal, AT&T benefits because Dish's subscribers who want HBO in rural areas have only one choice to get the service — rival DirecTV.
"It doesn't take a rocket scientist to figure out what's going on here," Ergen said.
The Univision battle addresses another aspect of the programming cost paradigm — when is it worth it to drop a network?
Ergen, who has basically said he thinks the Univision blackout will be permanent, said he believed that Dish has endured its heaviest subscriber losses from that dispute. In Q3, Dish lost 367,000 satellite TV customers, half of which they attributed to the Univision spat.
BTIG media analyst Rich Greenfield estimated that Dish probably will lose about $45 million in EBITDA over a year from lost monthly service fees in the blackout, but estimated it will gain "multiples of that" in cash flow by not having to pay Univision carriage fees.
"That looks like a fantastic trade," Greenfield said.
The smarter way to stay on top of the multichannel video marketplace. Sign up below.
Thank you for signing up to Multichannel News. You will receive a verification email shortly.
There was a problem. Please refresh the page and try again.