Creator Profile: EA Sports Leans Into YouTube With 'Madden 19'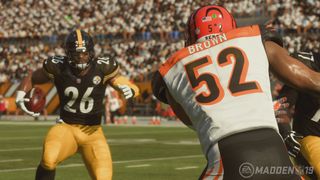 Multichannel News has teamed up with social video analytics company Tubular Labs for a recurring look at how various content creators are deploying video to reach audiences online. In this edition, a look at EA Sports, which recently announced the upcoming release of "Madden 19."
Creator Profile & Essential Stats
Name: EA Sports           
Genre: Gaming
Followers: 5.8 million followers on Facebook and 650K subscribers on YouTube
EA Sports seems to be pursuing a cross-platform strategy, and despite having a much higher follower count on Facebook, it has prioritized YouTube as its main video distribution channel. Of the 18 videos posted across social networks (YouTube, Facebook, Instagram and Twitter) in the last three months, 13 have been posted to YouTube vs. just one on Facebook.
Furthermore, EA Sports' YouTube engagement is slightly higher than on Facebook, according to Tubular Labs' ER30 standard, which measures the average engagement that specific videos receive in 30 days, compared to the platform average. The videos uploaded in the last 365 days by EA Sports had 1.8x better engagement than the YouTube average, and 1.6x better engagement than the Facebook average.
The YouTube focus may not be surprising—of the 4,833 videos published by 607 accounts about Madden in the last 90 days (according to Tubular's tracking in the Gaming genre), 4,402 (91%) of those were published on YouTube.
Looking at EA Sports' videos in the last three months, almost all of them are traditional ads for game launches and covers, except for one: NFL Rookies React to Madden 19 Ratings, its second most-watched video based on Tubular's V3 ratings. The company's first-place YouTube video is "Madden NFL 19 - Official Reveal Trailer," which has over 1.5 million views, 886K of which occurred in just the first three days, according to Tubular's V3 rating.
The use of celebrities in promotional, longer-form videos has been an exploding trend, one which EA Sports has certainly jumped on, as seen in its recently released "Madden 19–Make Your Play ft. Nicki Minaj, Quavo, Chris Redd, Lil Dicky, Will." This three-and-a-half minute trailer takes a fun, narrative approach to promoting "Madden 19," and since it was published on Aug. 2, it's racked up nearly 300K views, making it the third most-watched EA Sports video in the last three months.
Weekly digest of streaming and OTT industry news
Thank you for signing up to Multichannel News. You will receive a verification email shortly.
There was a problem. Please refresh the page and try again.