Capitol Stations Off Dish in Retrans Dispute
Each side says the other is to blame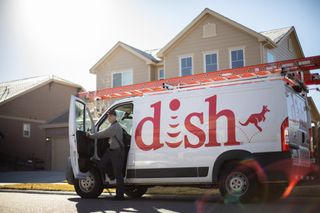 (Image credit: Dish)
Three Capitol Broadcasting stations have gone dark on Dish in a retrans dispute the blame for which each is laying at the other's feet.
In a press release, Dish said that Capitol had ignored its request for an extension and left its customers in the dark.
The stations at issue are NBC affiliate WRAL-TV and Fox affiliate WRAZ-TV, both Raleigh-Durham, and independent WILM-TV Wilmington.
Also Read: Verizon Warns Viewers Hearst Signals Could Come Down
"We don't understand why Capitol Broadcasting has chosen to put our customers in the middle of these negotiations," said Melisa Boddie, programming VP for Dish. "We offered an extension to keep these stations up for customers while negotiations continued, but Capitol never responded. Instead, they ignored our offer and forced a blackout of three North Carolina TV stations."
She said Dish remains open to working on a fair, long-term deal.
Capitol saw it quite differently, as WRAL pointed out on its website.
"WRAL and FOX 50 [WRAZ] have fallen victim to the same fate as hundreds of other local TV stations across the country, removed by Dish after they refuse to reach a fair agreement to carry our stations," it said in an "important message" on its website (https://www.wral.com/wral-DISH-FOX50-keep-my-local-stations/16921951/.
"Welcome to the modern-day David vs. Goliath," Capitol said. "We are one of the few small, locally owned broadcasters left in the country. As the broadcasting business changes, we're fighting for our livelihood and our ability to bring you the exceptional news and programming you expect."
Capitol concedes the issue is the price for its signals. "We are choosing to not be bullied into essentially giving away our programming to a company that resells it so they can make millions," it said. "We do not think it is right."
As to Capitol never responding to a Dish offer, the company said Wednesday (Dec. 30) that was not the case, adding this to the WGAL web site story on the issue: "That is simply not true. A negotiation requires both parties to participate fully, and, at this point, Capitol has not yet received a return proposal from DISH to our last proposal that was submitted before this dispute began."
Broadcasting & Cable Newsletter
The television industry's top news stories, analysis and blogs of the day.
Thank you for signing up to Broadcasting & Cable. You will receive a verification email shortly.
There was a problem. Please refresh the page and try again.