Analyst Says Disney Could Outlast Comcast in Fox Fight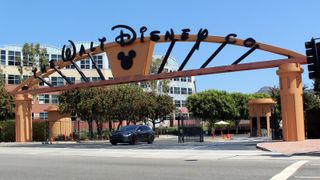 MoffettNathanson senior analyst Michael Nathanson wrote in a blog post Wednesday that he expects the Walt Disney Co. to outlast Comcast in the looming battle for 21 Century Fox assets, adding that Disney has more debt capacity to withstand a prolonged fight.
Disney upped its offer for certain 21 Century Fox assets Wednesday, making a cash and stock bid valued at about $71.3 billion. The bid was in response to a $65 billion all-cash offer Comcast made for the assets last week.
Related: Iger: No Chance Disney Would Agree to Carve up Fox Assets 
In the blog post, Nathanson wrote that the higher Disney bid was expected, and he anticipates Comcast will continue with a volley of its own in the coming days. But he said despite some speculation that Comcast needs the Fox assets more and would therefore pay whatever it takes to win them, Disney could have more financial wherewithal.
Related: Disney Sweetens Fox Offer to $70 Billion
Nathanson estimated that even with its higher offer, Disney would be in better shape debt-wise, whether it buys all of U.K. satellite TV operator Sky. According to Nathanson, Disney would need to raise about $35.7 billion in debt to finance a 50-50 cash and stock deal for the Fox assets. Buying the remaining 61% interest in Sky Fox doesn't already own would tack on another $17.6 billion in debt. But even at that higher level, Disney would only be 2.8 times leveraged at the end of 2020, which Nathanson wrote "would still be a reasonable range without much long-term concern."
According to Moody's Investors Service, Comcast would become the second highest leveraged media company in the U.S. (after AT&T-Time Warner) with total debt of about $170 billion, if its all-cash offer for the Fox assets were accepted. Moody's said Comcast's leverage ratio would be about 4.25 times cash flow.
Related: Moody's: Comcast-Fox Deal Would Dramatically Increase Leverage
In contrast, Nathanson estimated that Disney's gross debt would be about $109.6 billion after buying Fox and Sky, with net debt (including cash and cash equivalents from both companies) at about $81.4 billion at the end of 2020
The additional room between Disney's debt levels and Comcast's could mean that Disney has more ability to raise its offer.
"Disney remains in a strong position to compete with any potential follow-on raised bid from Comcast," Nathanson wrote. "In our view, Disney has the superior balance sheet, cost of debt, equity and rationale combined with fewer regulatory hurdles to emerge victorious over Comcast in a bidding war. Before, the only outstanding question was whether Disney's board and management would go to the mat on this transaction? We now know the answer is clearly yes!" 
The smarter way to stay on top of the multichannel video marketplace. Sign up below.
Thank you for signing up to Multichannel News. You will receive a verification email shortly.
There was a problem. Please refresh the page and try again.