Altice USA, Y&R Team Up for Digital Series to Promote World Cup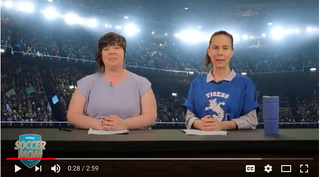 Altice USA and ad agency Y&R have teamed up on a digital series and social media campaign aimed at promoting the World Cup soccer tournament on cable and explaining the event to Americans unfamiliar with the sport.
The three-minute webisodes feature three "Soccer Moms" – Carolyn, Kyle and Isa – to explain rivalries, top teams and underdogs, fan traditions, and other aspects of the tournament.
"There's a cliché assumption that Americans don't care about soccer, and we wanted to prove that wrong during this year's World Cup," said Y&R North America executive creative director João Coutinho in a statement. "Millions of soccer moms live this sport every day, every week; they're just as dedicated as fans all over the world. So we found real soccer moms that can teach America how exciting soccer can be, while building brand affinity for Altice USA. It's a perfect way to get Americans involved in who's winning, who's not, and why soccer is the rest of the world's favorite sport."
The work comes on the heels of Altice's "Futebol vs. Football" regional Super Bowl spot, which starred Cristiano Ronaldo making his American football debut and bringing soccer to U.S. fans.
Thank you for signing up to Multichannel News. You will receive a verification email shortly.
There was a problem. Please refresh the page and try again.