Writers' Strike Should Teach Streamers a Valuation Lesson (Guest Blog)
Data is becoming more crucial in television's evolving economy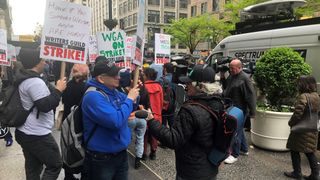 (Image credit: JL)
The Writers Guild of America (WGA) strike reminds us that the media and entertainment industry must be braced for disruption at all times. Four weeks in, it remains unknown when and how writers and the Alliance of Motion Picture and Television Producers (AMPTP) will reach a deal. But streamers can't afford to wait.
While massive conglomerates can pull from their enormous libraries, others will have to shift gears and figure out how to monetize a potential shortage of content. The near future could be a particularly rocky road for companies that rely on scripted content, but finding fresh content is a potential struggle for everyone — exacerbated by an already downward trend in production budgets.
The companies positioned to fare well, in hindsight, are those that commissioned unscripted shows and overseas productions earlier this year. Intentionally or not, they mitigated the impact of a writers' strike. But those that don't fall into that category shouldn't despair. With the right strategies, audience engagement is possible.
Advertising and Licensing Revenue
Beginning in 2020, a content shortage due to COVID-imposed production delays hastened the rise of ad-supported streaming. Viewers' options exploded in the last few years as massive back catalogs were released to AVOD services and FAST channels.
While many FAST channels are built on older TV shows and movies, growing competition has encouraged companies to roll out original content as well. General entertainment, such as movies and series, is the largest genre on FAST; 53% of that content is drama and 47% is unscripted, according to Variety.
Scripted linear programming will be hardest hit by an extended strike, which could further accelerate studios' and networks' shifts to streaming, whether through owned channels and services or expanded licensing.
If the strike drags out, larger players like The Walt Disney Co. have the luxury of large libraries to compensate for revenues lost from less original content. They have the data and analytical wherewithal to generate value in licensing deals and similar negotiations, too. Companies with an M&A advantage, like Paramount Plus and Showtime, can likewise leverage significant content libraries, content that's already in the pipeline, or content previously left off their streaming services as they also hold out against the strike. Others will pivot; Amazon recently announced plans to license originals outside its owned services for the first time, via the new Amazon MGM Studios Distribution unit.
Companies that don't have that breadth of content or partners might not be so lucky. The strike could put enormous pressure on the ecosystem. As the supply of new original content dwindles and competition for audiences (and advertisers) intensifies, the real question for these streaming executives is, "How do I best monetize content in a fragmented revenue landscape?"
The sheer variety of strategies employed by AMPTP member companies and streaming services reveals that the answer varies. Finding it requires the capacity to identify which titles, series, and genres audiences would most watch for a given platform, region, or period of time — and knowing what to do with that information once it's in hand.
Striking for Data
Data access tilts the power in this environment. A major point of contention between the AMPTP and the WGA is the WGA's demand to "establish a viewership-based residual — in addition to existing fixed residuals — to reward programs" with "require[d] transparency regarding program views."
The writers contend that the current residuals formula, by which they are compensated based largely on the traditional linear model of total subscribership, fails to account for the complex economics of streaming.
This echoes calls for transparency throughout the industry. In 2021, actor Scarlett Johansson settled a lawsuit against Disney over payments for the film Black Widow. Johansson alleged that Disney's decision to release the film to streaming during its theatrical window, which Disney attributed to COVID theater shutdowns, was a breach of contract. Streaming viewership — and the residuals that could have resulted from it — had not been accounted for in her contract.
Studios, streamers and talent all understandably want to retain as much value as possible from their investments. That's difficult given the dynamic, disruptive nature of the media and entertainment today. Collecting and validating payments such as viewership-based residuals would require streaming services to provide data that they are resistant to disclosing. It's created tension with content sellers and licensors as well.
An industry standard for "transparency" has yet to be defined, but all parties clearly agree that content data is an asset in this incredibly competitive, fast-moving market. Those who can access and analyze data have a leg up on those who don't (or can't).
Lasting Impact
The media and entertainment industry is still experiencing the ripple effects of the 2007-2008 writers' strike and the COVID-19 pandemic. The potential implications of the 2023 strike are similarly far-reaching:
Data transparency disputes will take center stage, with streaming services reluctant to disclose what they consider proprietary metrics amidst rising demand from anyone with a revenue stake.
SVOD churn and cord-cutting will continue apace or accelerate depending on economic winds and the content that is, or is not, offered.
The growth rate for ad-supported models could also accelerate as unscripted content fills the gap, scripted content is made newly available and cash-conscious consumers take the free option. Conversely, if economic concerns restrict or reallocate ad budgets, media companies may find it difficult to drive profits through both linear and ad-supported streaming.
Generative AI will become a point of increasing contention as large language models like ChatGPT create perceived threats and push the boundaries of innovation.
Most media companies have little say about when this strike will end or on what terms. But that doesn't mean this can't be a time to deploy a more resilient content strategy built on data.
Moving forward, power (in partnerships, licensing and advertising deals) will lean towards the company that has the clearest view of the data, including who is watching, when they watch and what they are watching. The strike has revealed just how critical content revenue and performance analytics are for the many changing distribution models in play.
This strike is about much more than data. But that's a big part of it. The industry should take note — and action.
Broadcasting & Cable Newsletter
The smarter way to stay on top of broadcasting and cable industry. Sign up below
Marc Liebmann is chief revenue officer of SymphonyAI Media.