Few MVPDs Part of Apple's Single Sign-On Mix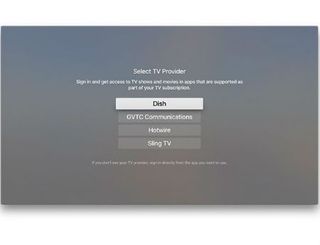 Apple introduced a beta form of its new single sign-on for Apple TV (tvOS 10.1) and iOS (10.2) and it's getting underway with underwhelming initial support from MVPDs.
According to outlets such as Apple Insider and MacRumors, just four MVPDs (or three, depending on whether you count Sling TV separately from Dish Network) are supporting Apple's SSO implementation out of the chute: Sling TV, Dish, GVTC Communications, and Hotwire. Apple tells users to sign-in directly from the app if their MVPD isn't on the list (image source: MacRumors).
DirecTV is expected to joining that list soon. Last month, Apple said its new SSO capability would be extended to DirecTV and Dish Network subscribers in December.
RELATED: Adobe, Synacor Back Apple's Single Sign-On Effort
Apple hasn't announced other MVPDs that will support the SSO feature, but more are expected to come on board in the weeks to come following its commercial rollout.
Apple is launching the function as it gets ready to deploy a new "TV" app that will launch later this year and aims to unify access to TV shows and movies from individual apps. But, like the early iteration SSO feature, it's falling short of true unification as it won't initially support video apps from major streaming players like Netflix and Amazon.
The smarter way to stay on top of the multichannel video marketplace. Sign up below.