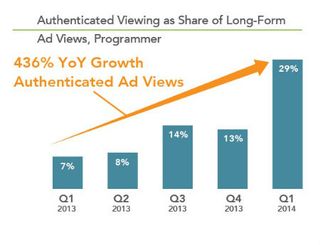 Authenticated, TV Everywhere services are still building an audience as operators and programmers look to ease the sign-on process and expand the amount of content available, but usage of these services made serious strides in the first quarter, according to FreeWheel's Video Monetization Report Q1 2014.
FreeWheel, the online video ad firm acquired by Comcast in March, found that more than 29% of long-form and live viewing occurred behind authentication walls, resulting in a year-on-year growth of 436%.
But FreeWheel pointed out that skew toward bigger numbers also benefited from a quarter in which several major sporting events were live-streamed, including the Sochi Olympics, the Super Bowl, the men's college football Bowl Championship Series, and the NCAA men's basketball tournament.
Among other findings, ad views on both long-form (20 minutes-plus) and short-form (0 to 5 minute) videos jumped 20% collectively, and 29% and 23%, respectively, year-over-year.
The study also amplified the fact that the immediacy of sports and news make them the "last bastion of traditional appointment viewing. Sports (81%) dominated online ad views is in the live category, followed by news (13%), and simulcasts of other entertainment programming (6%).
There was a more diverse breakdown on the on-demand end, with news (19%) leading the way, followed by sports (16%), scripted dramas and documentaries/reality shows (both 14%), comedy/variety shows and music trailers (13%), kids fare (5%).
The smarter way to stay on top of the multichannel video marketplace. Sign up below.
Thank you for signing up to Multichannel News. You will receive a verification email shortly.
There was a problem. Please refresh the page and try again.