Peacock Preens Amid Emerging Comcast Cross-Platform Strategy (Bloom)
Peacock has been largely dismissed amid the Streaming Wars, but Comcast seems to have the beginnings of a plan here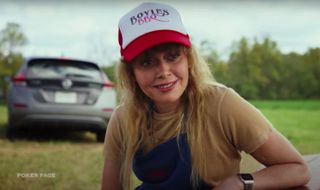 (Image credit: Peacock)
It's sure been easy to pick on Peacock in the nearly three years since its underwhelming debut in mid-lockdown. I know, because I've done it. As flightless birds, or streaming services, go, Peacock's passage through the Streaming Wars has definitely been a failure to launch.
But finally, we're starting to see some green shoots (or tail feathers), suggesting that there may actually be reasons to watch/pay for Comcast's streaming service. For too long, even the premium side of the offering had too little on offer except maybe to hardcore fans of golf, soccer, reruns of network procedurals or similar random audiences.
And now there are even, Wall Street praise be, some signs that Comcast's approach to Peacock and the rest of its very complicated array of assets is also embracing a new approach that might actually make money.
It's happening amid a brutal time in the streaming wars, especially for midtier services feverishly trying to figure out where to pivot next, and how much less they can spend to hit breakeven before audiences notice they don't have much to show.
Look at the slow-motion defenestration of Showtime, once a pretty nifty No. 2 premium cable channel now inexorably headed to TV history's ash heap, though not before Paramount Global unleashes waves of repurposed franchises to further milk those declining subscriber revenues.
Showtime the streaming service is now larded atop Paramount Plus with a clunky new collective name, even as Paramount Global "will divert investment away from areas that are underperforming and that account for less than 10% of our views," CEO Bob Bakish said. "We have already begun conversations with our production partners about what content makes sense moving forward and which shows have franchise potential."
That means a bunch of retreads and spinoffs and shelved projects, and not much of anything like even a modest breakthrough such as Yellowjackets, never mind culture-stomping classics such as Homeland or Dexter. (How many Yellowstone Universe spinoffs can Taylor Sheridan come up with? We're about to find out). Thank goodness for that other "mountain of entertainment" on Paramount Plus with Showtime!
So, Peacock's failure to launch in its first two-plus years is actually looking slightly less crummy by comparison to what's happening at the formerly bold and pioneering HBO/HBO Max, AMC and others. And maybe it's just the right time for Peacock, as share prices and investor confidence in most media companies continues to bounce back since the end of a terrible 2022.
On the screen, Peacock finally has some original shows that snobs like me might enjoy, like Emmy nominee Natasha Lyonne's critically lauded quasi-detective series Poker Face, or streaming access to Tar, the indie feature that picked up six Oscar nominations last week, including one that surely will yield another little gold man for Cate Blanchett.
Perhaps more importantly at this moment, shows that debut on NBC or Bravo are typically also headed to Peacock nearly simultaneously. And they're promoted to consumers as available on both platforms, which makes life easier for everybody. Other entertainment companies are starting to do this integrated cross-promotion, and it's about damned time. Keeping track of what's where, when and worth watching is nearly impossible for just about everybody without it.
It's paying off too. Night Court, a reboot of the 1980s sitcom that still somehow stars John Larroquette, launched on both Peacock and NBC in mid-January. Its premiere, which included the first two episodes run back-to-back, actually won its primetime ratings slot, according to Nielsen. It even, for a show built on a 40-year-old premise, managed to get a 1.0 rating in the 18-49 demographic that advertisers care about.
And while Peacock added only 500,000 viewers to the 7.5 million the broadcast version grabbed, it was both a nice bump and the best first day of viewing on Peaccock for any NBC series episode, new or old.
Consider that day-and-date release and cross-promotion as something like audience service. It keeps things nice, clean and easy to understand and remember. Everyone should be doing it.
Overall Peacock subscriber levels are picking up too, doubling to 20 million this past year. That's a big relative jump in a bad year for TV, though of course Peacock's paying customers remain far behind Disney Plus, HBO Max and even Paramount Plus, never mind Netflix and the Tech Twins.
Peacock is starting to adjust its strategy to improve here, too. It's been giving away Peacock's basic service to its broadband and cable subscribers as something of a bonus offering. Now, new subscribers will have to actually pay for the service and all that premier programming. That smells like an elevation to grownup status and expectations for Peacock, even if it doesn't immediately yield a bunch of new customers.
The strategy also relies on Xumo, the oft-overlooked AVOD/FAST service that Comcast bought about three weeks before the pandemic lockdown hit in 2020. It makes sense to focus Peacock on paying subscribers, while letting Xumo handle the low-end, ads-only audiences.
For instance, Comcast's joint venture with fellow cable distributor Charter is rebranding as Xumo TV, debuting a video streaming operating system called XumoOS, and launching branded TV sets called Hisense Xumo TVs. (Three guesses what the name of the built-in AVOD/FAST service is. )
As with Comcast's approach to show promotion, the marketing across products and services is clean, connected and most likely to be effective with otherwise indifferent audiences out there trying to navigate a complex and muddled market.
Wall Street is noticing the progress, too. Morningstar, the big mutual fund tracker, put Comcast on its "10 stocks to buy now - February 2023." All 10 are the "most undervalued" stocks from Morningstar's list of best companies to own (Disney is also on the buy now list).
Elsewhere, Comcast is unwinding part of its stake in BuzzFeed, taking advantage of a huge spike in share prices for the former online media darling when it announced a plan to use ChatGPT. Comcast sold nearly 11 million shares over about a week's time, generating a hefty windfall from an aging new-media company it bought into way back in 2015.
And of course, there remains that little multi-billion-dollar question of whither Hulu, of which Comcast still owns 30%? While everyone thinks of this mostly as an issue about Disney's future, it's going to mean a lot for Comcast's future, too.
The analysts at LightShed Partners issued two posts over the past week suggesting Disney CEO Bob Iger should sell the Disney stake in Hulu to Comcast, or see if someone else is in the market for one of the most widely distributed services in streaming.
As LightShed noted, however, "most investors struggle to see a logical buyer of Hulu beyond Comcast and are unclear how Disney would handle the significant number of Disney+/Hulu bundled subs and the substantial original programming that Disney entities have created for Hulu."
But Comcast may prefer to force a sale of its stake, and let Disney figure out what next. The resulting $10 billion or more from the sale, as with the Buzzfeed windfall, could be used to pay down debt, finance a different acquisition, drive international expansion, or even, perhaps, make some better shows to keep the flywheel rolling.
Comcast executives must feel confident about the direction the company is headed. They're increasing the stock dividend in April, to 29 cents a share. Analysts expect earnings per share to jump in the next year, after a five-year swan dive that saw EPS drop an average 23% annually. Now to find out where next for Peacock, Xumo, Hulu and the rest of the Comcast entertainment empire. Will they still have reason to preen in 2024? ▪️
The smarter way to stay on top of the streaming and OTT industry. Sign up below.
David Bloom of Words & Deeds Media is a Santa Monica, Calif.-based writer, podcaster, and consultant focused on the transformative collision of technology, media and entertainment. Bloom is a senior contributor to numerous publications, and producer/host of the Bloom in Tech podcast. He has taught digital media at USC School of Cinematic Arts, and guest lectures regularly at numerous other universities. Bloom formerly worked for Variety, Deadline, Red Herring, and the Los Angeles Daily News, among other publications; was VP of corporate communications at MGM; and was associate dean and chief communications officer at the USC Marshall School of Business. Bloom graduated with honors from the University of Missouri School of Journalism.