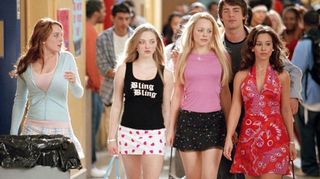 (Image credit: Paramount Pictures)
To celebrate "Mean Girls Day," a made-up holiday it christened itself to commemorate the iconic Lindsay Lohan teen comedy it premiered over 19 years ago, Paramount chopped the one-hour, 47-minute film into 23 individual clips and made it all available on TikTok.
Yes, the movie may have been released at the height of the DVD trend, but Paramount is trying to make "fetch" happen on a platform with a core audience that wasn't even born in 2004.
You can visit the official Mean Girls TikTok page and watch this creation here.
The account also links to Paramount's website, listing retailers that offer DVD, Blu-ray and digital versions of Mean Girls for purchase.
Written by an co-starring Saturday Night Live and 30 Rock regular Tina Fey, the film became a cult classic before inspiring a musical, a live production which Paramount is set to adapt back into a film for release on January 12.
Oct. 3 isn't an arbitrary calendar listing for "Mean Girls Day" -- it's lifted from scene in the 2004 movie where Aaron Samuels (Jonathan Bennett) asks Cody Heron (Lindsey Lohan) what day it is, and she replies, "It's Oct. 3."
Fey is also auctioning her original annotated script of Mean Girls: The Musical, which included handwritten notes, sketches in the margins, and extra scenes including one with audience-favorite Mrs. June George, played by Amy Poehler.
Fun aside: The bio for the official Mean Girls TikTok account reads, "Get in loser, we're going shopping."
The smarter way to stay on top of the streaming and OTT industry. Sign up below.
Jack Reid is a USC Annenberg Journalism major with experience reporting, producing and writing for Annenberg Media. He has also served as a video editor, showrunner and live-anchor during his time in the field.