'Next TV' Launches 2022 Media & Entertainment Best in Market Awards
Awards, now independent of industry events, will honor M&E tech innovation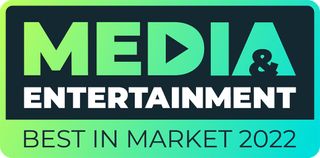 Future's Best in Market awards are back for 2022.
If your company has launched a standout new product targeted to media and entertainment clients — or has upgraded an existing one — the now-independent Media & Entertainment Best in Market Awards can highlight your hard work and put your product in front of those who'd like most to know about it.
The awards program is brought to you by Next TV, TV Tech, TVB Europe and Radio World, and all winning products will be showcased digitally and in print across all of these titles. Nominees will also be featured in a free digital ebook.
Entries are due by December 1.
During COVID, Future's brands created a Best in Market option alongside our annual Best of Show awards for businesses that were unable to take part in live events. Despite the gradual return toward normality in show attendance, the popularity of the Best in Market option prompted us to launch the program as its own independent awards.
The awards program is a great opportunity for businesses looking to wrap up the year in style and have their product crowned Media & Entertainment Best in Market award winners for 2022. To enter the awards or browse the site for more details, click here. ▪️
Mike Demenchuk has served as content manager of Broadcasting+Cable and Multichannel News since 2016. After stints as reporter and editor at Adweek, The Bond Buyer and local papers in New Jersey, he joined the staff of Multichannel News in 1999 as assistant managing editor and has served as the cable trade publication's managing editor since 2005. He edits copy and writes headlines for both the print magazine and website, wrangles the occasional e-newsletter and reviews TV shows from time to time. He's also the guy to bother with your guest blog, Fates & Fortunes and Freeze Frame submissions.
The smarter way to stay on top of the streaming and OTT industry. Sign up below.
Thank you for signing up to Next TV. You will receive a verification email shortly.
There was a problem. Please refresh the page and try again.