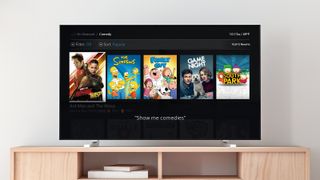 It doesn't matter how good the show is if the viewers can't find it.
As the TV world changes channels from a world dominated by traditional linear networks to a direct-to-consumer, on-demand subscription model, no issue has become more of a priority than navigation.
Once, Bruce Springsteen sang about how there were "57 channels and nothin' on." Now, there's a lot on — more than 500 original series being produced this year — but making it easy for viewers to discover shows is harder than ever.
A wave of companies, from the largest distributor, Comcast, to the largest content-streaming service, Netflix, to the smallest technology firms, are testing a variety of solutions to answer the oldest question in TV-viewing history: "What's on?" With so many sources competing for consumers' attention, these companies are racing to find the best software, algorithm or guide that will direct consumers to consume more video. "It's a critical element," said Daniel Spinosa, vice president of video entertainment services for Comcast Cable.
"When you get the most relevant piece of content in front of a user, they tend to engage," said Jarrod Schwarz, who, as vice presidents of product and design at Disney's new Direct-to-Consumer & International unit, works on the ESPN app and the ESPN Plus subscription service. "And that's really our goal, is making it easy to find exactly what you're interested in."
But making new content easy to find isn't easy for programmers. And it can be frustrating for consumers.
"In this platinum age of television, where there are more dramas and comedies across the subscription and linear video environment, consumers are confused," said Jill Rosengard Hill, executive vice president at entertainment industry research and consulting company Magid. "They want direct access. They want recommendations — from friends and from services. They're looking for new content every week."
In a recent study, Magid asked consumers how they find out about new or upcoming shows. Forty-nine precent of respondents said from promos and TV commercials and 40% said word of mouth.
Only 15% of consumers cited the on-screen guide, but Hill said searching for content on Netflix works well and that cable platforms such as Comcast's X1 and Cox's Contour are better than ever.
Recommendation Engines
"We know that recommendation engines matter a lot and consumers are relying on them more," she said. "We do see high satisfaction with voice remotes."
For now, old-fashioned promos still work, but the future lies in personalization and automation driven by artificial intelligence and machine learning. "AI lets a computer give you insights into your content and your users that you could not possibly unlock on your own," said former CBS News and CNN executive Jon Klein, who recently became president of Vilynx, an artificial intelligence company focusing on the media business.
The streaming video giants that have lured viewers away from traditional TV — such as Netflix and Amazon — have massive data operations that are far more sophisticated than anything even the most data savvy media companies possess, Klein said.
Klein's pitch is that artificial intelligence can level the playing field and help Vilynx clients, including NBC News, attract and keep people watching, which generates advertising revenue.
Building on Data
AI can power recommendations that are more personalized, as well as customize promotions.
"Building communities will be a big thing for entertainment companies," he said. "Think about all the superfans of Game of Thrones. They gather at HBO to watch the show and then they dissipate. They dissipate because HBO does not know who they are. Once they know who they are, [HBO execs] can start targeting even more content to them. That's means they can remain vibrant when there's no show on the air. HBO can be in the middle of that for the first time."
One reason for Netflix's explosive growth is its legendary use of data, which the company relies on to figure out what its subscribers want to see and to make sure that they find it when they log on. Even for Netflix, as the amount of content it creates and acquires increases, easy navigation and discovery is vital to keeping viewers watching and subscribers paying their monthly fees.
Finding Content With Ease
"Our goal is to make it as easy as possible for members to connect with stories they'll love on Netflix," a spokesperson said in an emailed response. "From the moment members first login to their Netflix account, what they see is fully personalized to their tastes and, hopefully, they'll discover their new favorite show or film."
Recently, Netflix made some changes to its service. "The new TV interface we launched in June helps to make the Netflix experience simpler and more intuitive in a few different ways," the streaming video company said.
"It is now easier to search and view new content added to the service. It is also far simpler to start browsing with either a series or movie; our research has shown us that while a member generally isn't sure what exact title they want to watch, they have a pretty good sense of whether they are in the mood for a quick series episode or a longer movie experience," Netflix said. "We've found that that this simpler design helped members find something great to watch."
Netflix said it lets people know about available content through promotion — the streamer is a big TV advertiser — and via personalized recommendations. "The personalized recommendations we offer are central to the Netflix experience to help members find something great to watch quickly and easily. We draw on global insights to help our viewers find content they will love based on both their personal viewing habits and those of like-minded viewers," Netflix said.
The situation is very different at Comcast, where most consumption still comes from linear TV and the first thing subscribers see when they turn on the set is whatever channel they watched last.
There are three elements to Comcast's navigation strategy and the one that is growing fastest is using the voice remote control, Spinosa said.
Comcast has about 23 million voice remotes in subscribers' homes; there were 3.5 billion voice commands made in the first half of 2018.
"Our customers like to tune to channels; they like to go to their shows; and they're also starting to develop a sense of browse behavior by calling up things for example by genre," he said. "Voice tends to be more personalized, but people are also talking into the voice remote asking for comedies and dramas."
Mixing Programming, Promotion, Algorithms
The other navigational tools are the Xfinity button on the remote control, which takes viewers to recordings, on-demand programs and the guide, letting them scroll through the list of linear channels and shows playing live.
Comcast provides recommendations on the on-demand and record program menus, though its approach to recommendations is different than Netflix's, according to Spinosa.
"We see it as a mixture of programming, promotion, and algorithms and so we don't believe it's just computers in the end," he said.
Comcast updates X1 monthly. It aims to make the changes small enough so they don't stand out, but big enough to improve the consumer experience.
One recent change emphasized new episodes of shows the viewer watched recently.
"We find that people don't sit down and binge full seasons. Some people do but not everybody does," Spinosa said. "Therefore we'll resurface the content to customers as there is a very high likelihood that they'll want to come back to it."
In the on-demand area, Comcast also highlights shows by the day of the week on which they are scheduled.
"We found that people associate TV programming with the day of the week," he said. "They may want to catch up on a different date so we've improved the navigation for them."
Comcast's content discovery efforts also help subscribers recognize when a new programmer is added. When Netflix was added to Xfinity, Netflix shows were integrated into the menus on X1, which helped viewers find them.
"We're getting ready to add Amazon Prime Video to X1 and think it will be a great partnership and especially compelling for customers," Spinosa said.
Watching the Watchers
When it launched its live product, Hulu took the fairly revolutionary step of omitting a channel guide as part of its user experience. A year later, the company rolled out a channel guide to subscribers.
Hulu keeps a very close eye on how viewers experience its product, a company spokesperson said. "This constant feedback loop allows our team to build out product roadmaps that account for iterations our viewers really value."
Hulu emphasizes the ability to personalize its experience. During the NCAA Men's Basketball Tournament, viewers could input their favorite team. Hulu said this resulted in viewers getting to live games 30% faster than other types of content.
More recently, Hulu added a "browse" button to every tile of its web interface because viewers said they were having a hard time finding information for content they were watching.
"Since the launch of Hulu's live TV product, virtually all of the many iterations in the user experience have been a direct result of our viewers' feedback," the spokesperson said.
ESPN has introduced a new app and its subscription service ESPN+, which offers subscribers access to thousands of games. Those games are mostly viewed live, so making it easy for viewers to find the contests they don't want to miss is an important challenge. ESPN also has to deliver breaking sports news to viewers, as well as highlight a library of other content, including its 30 for 30 documentary series.
"Our goal is to get you exactly what you're looking for, ideally on the home screen, and if we don't find exactly what you're looking for on the home screen, making it easy to look for what you might be interested in," said ESPN's Schwarz.
Personalization is one way ESPN aims to do that. When people sign, on they're asked for their favorite leagues and teams. NBA fans will get LeBron James dunking, and Tottenham Hotspur fans will see Harry Kane highlights.
ESPN provides users with opportunities to add favorites while watching games or check scores.
"We don't think of it as a one-stop journey. It's kind of a progressive personalization approach where we continue to capture information," Schwarz said.
Additionally, ESPN's editorial team is constantly monitoring games and reporting news and when it is "transcendent," they have the tools to make sure all users see that content.
"When [NFL star] Khalil Mack was traded, it was the biggest piece of content on our site that day. And it really did transcend. Its engagement rate when looking at everything else across the application was higher than everything else," Schwarz said. "It really did transcend the day. Especially for NFL fans. But it went well beyond."
Directing content to users in some cases relies on artificial intelligence and machine learning. "That's a growing part of our portfolio. Because of the wealth of information we have explicitly, it really does compliment that experience to find those areas of interest which you haven't explicitly told us about," Schwarz said.
As it tweaks its systems, ESPN is looking at repeat users, as well as A/B testing in person and in labs to gauge users' behavior. Schwarz said that the results from the tests will be valuable as the company dives deeper into the direct-to-consumer streaming world.
"There's of course lessons that can be learned," Schwarz said. "But I would say each business is unique in a lot of ways too, and we're paying attention to that."
Jon has been business editor of Broadcasting+Cable since 2010. He focuses on revenue-generating activities, including advertising and distribution, as well as executive intrigue and merger and acquisition activity. Just about any story is fair game, if a dollar sign can make its way into the article. Before B+C, Jon covered the industry for TVWeek, Cable World, Electronic Media, Advertising Age and The New York Post. A native New Yorker, Jon is hiding in plain sight in the suburbs of Chicago.
Thank you for signing up to Multichannel News. You will receive a verification email shortly.
There was a problem. Please refresh the page and try again.