Lesley Stahl: Public Support for Media Might Backfire on Trump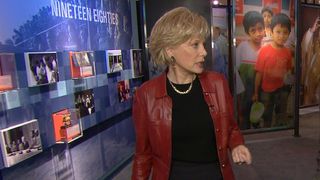 New York -- Lesley Stahl, the 12-time Emmy winning CBS News correspondent who, before joining 60 Minutes in March 1991, was CBS's first female White House correspondent (during the Reagan and Carter presidencies), said in a speech Thursday she was heartened by apparent public support for the news media during a period when their practitioners are under assault by the president.
Stahl, in accepting the first Multichannel News "Woman of Influence" award midway through the annual Wonder Women luncheon at the New York Hilton, began with a plug for her 2016 book, "Becoming Grandma: The Joys and Science of the New Grandparenting" (PenguinRandomHouse), noting that several Wonder Women honorees had credited their mothers and grandmothers as mentors and influences.
"I do want to say a few words about today and our get together," she continued.
"We're happy. This is such a peaceful, loving environment. While one step out into the real world, what we're confronting is a cauldron of chaos and disharmony. I speak of course as a member of the opposition party, a.k.a. the press.
"President Trump has called reporters, and I'm quoting, among the most dishonest human beings on earth. Now, that hurts our feelings. He has vilified individual reporters by name and refused to take questions from those whose coverage he dislikes. Someone close to Trump told me the idea is to so sully and invalidate us, the public won't believe our stories if they are unflattering about the president.
"Mr. Trump is not the first president to disparage journalists, but he is certainly the boldest. And there's a reason.
"When I started out in the 1970s, everyone, I mean everyone, watched television news at 6:30. Our ratings were astronomical. I covered the White House for CBS in those days and I have to admit I was treated like a little princess by the White House.
"Network correspondents were the vehicles through which the president communicated. He had to go through us to get his message out, make his arguments and improve his approval ratings.
"But now, with Twitter and Instagram, podcasting, hashtagging and Snapping, the secretary of state can go off on a foreign trip without the press corps. Unheard of, unheard of. Even I guess last year, it was unheard of.
"The president can sit in his bedroom and tweet directly to the public without any press at all and reach as many if not more people than TV news," she said.
"And yet, I am watching with amazement and pride as our institution is doing the job it is designed to do, with courage and fortitude. And that is to be the fourth estate -- or the fourth leg, as the founding fathers put it, in our balance of power and democracy.
"Though the public may not agree, I think we in the news business feel that there is an idealistic purpose in what we do. We still see it as fulfilling our mission, which is to shine a light, hold their feet to the fire and cleanse the system.
"And there just may be a reward. Because there seems to be an intriguing and heartening paradox: that the more President Trump aims his arrows at us, the higher go our ratings, the stronger our newspaper sales and online news site subscriptions. Stephen Colbert's ratings bounced once he began concentrating on the news, and Samantha Bee as well, correct?
"So I just wonder if all the attacks, rather than demeaning us, end up actually restoring our credibility and our trustworthiness. It's a lovely thought. So I appreciate that you have chosen a news person to honor with this new award. I'm grateful personally, but also take it as a salute to my profession. Thank you."

For more about the 2017 Wonder Women and of the event (#MCNWW2017), which was co-sponsored by the New York chapter of Women in Cable Telecommunications and, coincidentally, hosted by two women who are news anchors, Alisyn Camerota of CNN and Rosanna Scotto of WNYW in New York, please bookmark mcnwonderwomen.com.
Kent has been a journalist, writer and editor at Multichannel News since 1994 and with Broadcasting+Cable since 2010. He is a good point of contact for anything editorial at the publications and for Nexttv.com. Before joining Multichannel News he had been a newspaper reporter with publications including The Washington Times, The Poughkeepsie (N.Y.) Journal and North County News.
The smarter way to stay on top of the multichannel video marketplace. Sign up below.
Thank you for signing up to Multichannel News. You will receive a verification email shortly.
There was a problem. Please refresh the page and try again.