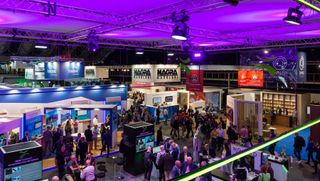 (Image credit: IBC)
After returning to a live-event footing last year with a harsh 34% drop in attendance, content and technology summit IBC 2023 hopes for a rebound session when it convenes at the RAI Amsterdam on September 15.
Twelve hundred exhibitors from media and tech companies including Warner Bros. Discovery, Paramount Global, Universal Pictures and BBC Studios are expected to attend the four-day event, which has long been a key destination for European broadcast and video companies, but increasingly one for U.S. entities, as well.
Our IBC 2023 Coverage:
IBC 2023: Speaker Highlights — 11 Media-Tech Influencers You Won't Want to Miss in Amsterdam
IBC 2023: Comcast Technology Solutions Launches New Cloud Distribution Tech For EMEA Market
"You can expect a show of pre-pandemic scale and energy," Mike Crimp, the London-based CEO of IBC, told Next TV via email late last week. "In terms of visitors, all the indications suggest that we're going to see really high numbers, with a higher total than last year."
IBC began in 1967 with representatives from 24 countries aiming to evolve with new trends and entertainment technologies — and though it now welcomes exhibitors and attendees from more than 170 countries under its banner, it still has much the same goal.
IBC defines its mission as bringing together the global media, entertainment and technology industries, enabling attendees to gain critical insights and share expertise. This year's conference has a three-track focus: on people and purpose (the event's term for inclusivity and sustainability), shifting business models and transformative technologies.
Sessions like IBC's "Content Everywhere," the summit's core coverage zone for multi-platform media delivery, have only continued to grow in importance amid the dominance of streaming services. Sponsors this year will include Amazon Web Services, Comcast Technology Solutions, LTN Global, and others from across the globe.
"IBC has always been a hub for innovation, where media leaders meet to explore new business models," Crimp said. "[It's] where the industry meets to talk business — decisions are made at the show, and it's where pioneering technology companies come to showcase their innovations, drive sales and grow their brands."
"Quickplay has attended IBC for the last decade," Paul Pastor, co-founder of the Toronto-based platform provider, said. He predicted that this year's conference will focus heavily on one of media's most contemporary issues.
"Generative AI will drive much of the discussion at IBC 2023," Pastor predicted. "Since February with the distribution of Chat GPT, the whole industry turned to see how they could incorporate AI to help create content. … That will no doubt dominate the conversation this year."
According to Pastor, these discussions of cutting-edge technologies and topical issues are exactly the kind that make it worthwhile for industry leaders to travel to the IBC summit.
Among the speakers confirmed by IBC are Ralph Lee, CEO of BBC Studios Productions; Olivier Jollet, international chief for Pluto TV; Michael Wise, senior VP and chief technology officer at Universal Pictures; Eddie Drake, head of technology for Marvel Studios; and Leah Hooper Rosa, EMEA streaming chief for Warner Bros. Discovery, just to drop a few names.
Talks will cover trends such as AI-driven content personalization, free ad-supported streaming TV (FAST), next-generation streaming strategies and many more. But if those headed to IBC are to be believed, the discussions will be as radical as they are numerous.
"My motivation going into IBC is to officially declare the last era of media over." said Evan Shapiro, the Seeso founder and longtime media-tech executive and influencer who will open the convention's keynote session. "My hopes are to convince public service broadcasters to avoid the mistakes of their commercial American counterparts; to convince publishers worldwide that they have more power over Big Tech than they think; to prove that creators actually have more value than gatekeepers; and to tear down the unnecessary walls most of our industry puts between video, audio, gaming, social media and commerce.
"The media needs to be entirely reimagined around the concept that consumers now control the media — and they do so very differently in each region." Shapiro added. "The importance of events like IBC for U.S. media companies is to hear things like these. To meet people who make them true. To go beyond the borders of their own experience. To get outside commercial American media's bursting bubble."
Those hoping to attend IBC 2023 can get a free basic ticket until August 25 or purchase either of two higher-tier tickets that provide perks and expanded access to the conference. The registration link is at the top of the IBC's landing page.
The smarter way to stay on top of the streaming and OTT industry. Sign up below.
Jack Reid is a USC Annenberg Journalism major with experience reporting, producing and writing for Annenberg Media. He has also served as a video editor, showrunner and live-anchor during his time in the field.