Hulu Rolls Out Its Live Guide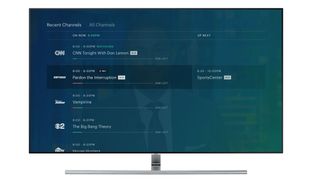 Following a rollout on web browsers last fall and a mix of tests on other platforms, Hulu said it has rolled out its live TV guide and live TV "destination" on a handful of other streaming platforms.
RELATED: Hulu Optimizes Web Platform for Live TV
The latest to get those features include Xbox One consoles, Apple TV boxes (4 gen and higher), Amazon Fire TV devices, and the Nintendo Switch.
The expansion comes about a year after Hulu introduced its live TV service.
Since that launch, "[W]e've learned a great deal about how our viewers like to enjoy their live TV," Richard Irving, Hulu's VP of product, explained in this blog post. "One thing, in particular, we've heard from you is that at times it can be difficult to see what's on another channel or flip between two channels you're watching simultaneously."
Hulu brought its live guide to the Web last fall, and found that it helped fulfill the need for viewers to get to the live TV offering in one click and have the ability to channel surf, he added.
On platforms with the new live guide/live TV destination, a lightning bolt icon will take Hulu subs to live playback on their most recently viewed channel. Users can also personalize the live TV guide by sorting by "All Channels" or "Recent Channels," which present the last ten channels watched.
Irving said Hulu plans to roll out the new live TV-focused features to more devices/platforms "soon."
Hulu has more than 20 million subscribers, a number that includes its SVOD and live TV service.
The smarter way to stay on top of the multichannel video marketplace. Sign up below.