Cable TV Pioneers Picks New Class of 25 Inductees
Group also adds 10 special inductees who work behind the scenes at 57th banquet in Denver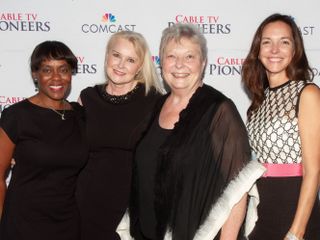 (Image credit: Titus Kana)
The Cable TV Pioneers named the 25 new members who will be inducted at the group's 57th annual banquet, in Denver, with the banquet date and venue still to be announced.
The group described the new group as including men and women who reflect the changing and expanding areas of the industry. (They include former Charter Communications CEO Tom Rutledge as one standout.) Their ranks include CEOs, presidents, engineers, trade executives and others who have contributed to cable's evolution and growth.
Also: Meet the 2022 Class of Cable TV Pioneers
"Our industry's growth and diversity into new platforms, content and technologies are clearly evident by the members of the Class of 2023," Jim Gleason, Cable TV Pioneer vice-chair, said in a statement. "This class clearly demonstrates the leadership, values and entrepreneurial success that continue to make the Cable Pioneers relevant."
The 2023 class of Cable TV Pioneers, with company designations given by the Pioneers organization, is:
Amy Lynch, Comcast
Arturo Marquez, Fuse Media
Balan Nair, Liberty Latin America
Daniel McKay, C3 Broadband Integration
Diane Christman, The Cable Center
Dick Beahrs, Court TV (retired)
Eric Perbohner, Technetix (deceased)
Jack Burton, Broadband Success Partners
Jack Dyste, Mega Broadband (retired)
James Manchester, Comcast
Jeff Smith, Comcast
Jennifer Smardo, Comcast
Kathy Payne, Cox Communications
Keely Buchanan, Charter Communications
Marc Aldrich, Amazon Web Services
Michael Powell, NCTA
Pragash Pillai, Altice USA
Randy Wells, RBC Daniels (retired)
Shannon Saviers, GrowthLinx Advisors
Sheri Langford, Charter Communications
Stacey Slaughter, NCTI
Sudhir Ispahani, Alpha Global Partners
Susan Burgstiner, Marketing On Demand
Thomas Monaghan, Charter Communications
Cable TV Pioneers also is inducting a group representative of the numerous behind-scenes individuals whose entrepreneurialism and inventiveness have enabled new, critical services to launch at scale, the group said.
Yvette Kanouff, chair of the Pioneers, said: "By acknowledging these special inductees, we celebrate a huge group, who often go unrecognized for their innovations and standardizations, ranging from technology specifications, interoperability and testing to chip functionality. These advancements have enabled services including broadband, wifi, on demand and more."
The Special Designated Pioneers for 2023, and their company affiliations as listed by the group, are:
Mike Emmendorfer, Calix Inc.
Jack Moran, Comcast/Futurewei Technologies (retired)
Jason Schnitzer, Applied Broadband
Lisa Denney, Broadcom
Niki Pantelias, Broadcom
Pawel Sowinski, Charter Communications
Robert Howald, Comcast
Steven Harris, SCTE
Tom Williams, CableLabs
The Cable TV Pioneers was founded in 1966 during the NCTA convention in Miami, Florida. The original fledgling group of 21 entrepreneurs has grown to more than 700 men and women over the past 50 years. For more information, visit CableTVPioneers.com.
The smarter way to stay on top of the multichannel video marketplace. Sign up below.
Kent has been a journalist, writer and editor at Multichannel News since 1994 and with Broadcasting+Cable since 2010. He is a good point of contact for anything editorial at the publications and for Nexttv.com. Before joining Multichannel News he had been a newspaper reporter with publications including The Washington Times, The Poughkeepsie (N.Y.) Journal and North County News.