Big3 Says Charter Manipulating Fox RSN Sale Process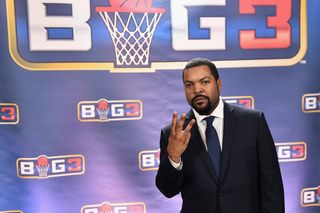 Big3 Networks, the three-on-three professional basketball league that is among the bidders for 21 Fox regional sports networks currently on the block, claimed in letters to two government agencies that threats by Charter Communications to "preemptively drop" the channels is affecting the auction for the networks.
Big3, led by rapper Ice Cube and investor Jeffrey Kwatinetz, said in letters to both the U.S. Dept. of Justice and the Federal Communications Commission on April 11 that it had held preliminary talks with Charter about possible carriage of the channels should it be the winning bidder. After some brief discussions, Big3 claims Charter broke off talks, which it says could harm its ability to bid successfully for the channels.
Charter's actions, Big3 claims, are especially curious since one of the cable company's largest shareholders -- Liberty Media -- is also a bidder for the Fox RSNs. Final bids for the channels are expected to be in by April 15.
In the DOJ letter, Big3 said gaining Charter carriage is critical to the success of whichever company owns the Fox RSNs, given Charter systems account for about 25% of the channels' potential customers.
"Charter's conduct raises serious questions regarding the integrity of the divestiture sale and whether Liberty may be using its controlling position over Charter to tilt the bidding process in its favor," the programmer said in its letter to the DOJ. "It has been suggested to Big3's ownership that Charter has disseminated its threat to drop the RSNs to other members of the industry, thereby suppressing auction prices, chilling bidding, and ultimately hurting Disney's ability to secure the best price for the RSNs."
Big3 stressed that it was not seeking a firm carriage offer from Charter, but rather "guidance and visibility into Charter's business plans and assurances that Charter would not completely drop the RSNs, as it has indicated. Otherwise, Charter's conduct risks effectively excluding Big3 from the bidding process and tainting the auction."
In a statement, Charter said it "currently has an agreement to carry these networks and welcomes the opportunity to discuss a future carriage agreement for these networks with whomever ultimately owns them including Big3. Regardless of who owns the programming, we approach all negotiations with the same singular objective of reaching carriage agreements that best meet the needs of our customers."
In a press release, Big3 co-owner Ice Cube said he doesn't believe Charter's response rings true.
"The Big3 is not part of the old boys club and that doesn't sit well with a company like Charter, which has been called out many times for unfair treatment of minority organizations and for consistent disregard of its own customers," Ice Cube said in the relaese. "In response to our filing, Charter says they are willing to talk to 'whomever.' Given their consistent animosity toward diverse ownership groups with inclusive messages like ours, we say we don't believe them. Anyone who looks at the facts won't either. They have done everything they can to keep us from owning these RSN's and that's why we have asked the FCC and the DOJ to investigate."
Ice Cube is not the only African-American programming executive to accuse Charter of bias. In 2016, Entertainment Studios Networks founder, chairman and CEO Byron Allen filed a $10 billion discrimination suit against Charter, claiming the operator did not give the same opportunities to minority-owned networks that it did to white-owned channels. That case is still pending.
Related: Court Won't Dismiss Allen Suit Against Charter
Big3 hopes to use the RSNs as a foundation for a new national network with a range of sports, youth and culture programming.
Initially, analysts had estimated the RSNs would attract bids upwards of $20 billion. But the reality of adding expensive channels to linear programming distributors in an environment where consumers are striving to pay less, not more, for programming has driven down the price tag to around $10 billion. In addition to Liberty and Big3, other potential bidders include Major League Baseball and television station group Sinclair Broadcasting.
Disney put the RSNs up for auction in October, part of the conditions for federal approval of its $71.3 billion purchase of certain 21st Century Fox assets. The channels include networks in markets like Atlanta, Dallas, Los Angeles, Detroit, Minneapolis and Kansas City. In a separate deal, The YES Network, owned by Fox and the New York Yankees, has essentially hammered out an agreement where the baseball team will buy out Fox's 80% interest -- with the help of private equity and Amazon -- for about $3.5 billion.
The smarter way to stay on top of the multichannel video marketplace. Sign up below.
Thank you for signing up to Multichannel News. You will receive a verification email shortly.
There was a problem. Please refresh the page and try again.