At Ice-Cold Sundance, 'Netflix And Chill' Takes on a New Meaning for the Now Tight-Belted Streaming Companies (Bloom)
The competitive heat and underlying calculus that justified splashing cash on random festival darlings like 'CODA' the past few years has seemingly evaporated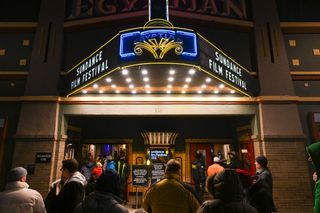 (Image credit: Photo by Jim Bennett/Getty Images)
PARK CITY, Utah — Ah, Sundance ... It's back! In person! But with temperatures as low as 7 degrees (that's Fahrenheit, for our globe-girdling international readers), the extreme cold has become a handy metaphor for the lack of heat in the market for all the indie projects on display, except for a few horror films and music documentaries.
You can blame that on the Great Streaming Correction that hit media companies last year after Netflix's disastrous April earnings report. Wall Street suddenly wanted profits, not investments, in streaming. And the competitive heat and underlying calculus to justify splashing cash on random festival darlings seemingly evaporated by the time Sundance returned in person a few days ago to Park City, Utah after two years of virtual perdition.
Oh, sure, many things are still the same in this year's sprawling festival. Brands gonna brand. Traffic gonna traffic. And filmmakers of all sorts and nationalities are still insanely excited to have their passion projects get the spotlight and love of a Sundance premiere and press line.
Everyone is once again swarming the parties, panels, hotel lobbies, marketing activations and Park City's hideously congested Main Street, which I like to call the world's steepest parking lot.
For the filmmakers, many likely also dream of the kind of financial score that Sian Heder managed just two years ago, when Apple TV Plus bought her CODA for $25 million. That price was, by a long shot, a record for the most money ever spent on a Sundance film (Hulu set the previous record of $17 million just a year earlier, for Palm Springs).
UPDATED: On Monday, selling activity at Sundance suddenly warmed when Netflix reportedly agreed to pay MRC $20 million for relationship drama Fair Play.
Apple's hefty investment paid off quickly, not only drawing plenty of viewers and critical buzz, but winning three Oscars last March, including Best Picture, as well as deaf actor Troy Kotsur's ground-breaking supporting actor win.
Another 2021 Sundance opening-night movie, the musical documentary Summer of Soul (…Or When the Revolution Could Not Be Televised), also sold to a streamer, Disney Plus. It, too, proved a commercial and critical hit, notching an Oscar for Best Documentary Feature.
Don't count on another CODA-sized score this year, however. All of a sudden, it's a lot harder for streaming services to justify a big payday for a film that may not draw lots of new subscribers, build buzz for the service as a must-have or keep customers from churning off to the next thing.
At least that's the argument in movie wait lines, shuttle bus rides and endless cocktail parties. Others suggest that streaming services may need to stock up on some projects at reasonable prices, in case a feared writer's strike hits Hollywood later this year.
But the evidence mounts that it may indeed be a chilly year for deals.
A Cooler Approach
Streaming's cooler approach is badly timed for the indie film business, always a parlous proposition but especially now in the streaming chill.
Theatrical exhibition remains a mess, despite massive hits like Top Gun: Maverick and Avatar: The Way of Water. But the other end of the theatrical business — typically occupied by the kinds of films and fans you'd see at Sundance — has been battered. Overall, 2022's box office was still a third down from pre-pandemic days, most of the impacts hitting mid-sized and smaller critic-driven prestige projects.
Streaming services had filled a part of that gap, buying films that could appeal to a specific niche of their audiences, while possibly generating some awards buzz at year end. But if streaming services aren't buying, and theatrical exhibition remains a mess, where will these projects get seen, and how will they get financed?
The purchases at Sundance 2023 so far have been modest at best. Netflix announced on the festival's first day that it had bought Run Rabbit Run, an Australian horror film starring Sara Snook (Succession). Netflix already has a watch reminder page on its site (opens in new tab) for the movie, though no trailer, images or release date.
Amazon Prime Video picked up another horror film, In My Mother's Skin, out of the Philippines, of all places. And there have been a few other acquisitions: Magnolia bought a terrific documentary about rock pioneer Little Richard; Onyx Collective bought several projects to expand its slate for Hulu, including a documentary about Sly Stone.
Meanwhile, back at the ranch in Hollywood, Netflix "blew the doors off" its quarterly earnings announcement last week, beating guidance on revenue and subscribers, adding nearly 7.7 million paid members.
Co-CEO Reed Hastings decided it was the perfect time to announce he'll be leaving the company he founded, shifting to executive chairman so heir apparent Greg Peters can slide into the operational side of the company's shared CEO seat.
Amid all that, Netflix also released its 2023 programming slate, which was markedly slimmer than last year's.
The slimmed-down slate also shows the company's continued focus on making more shows for local markets around the world, instead of big Hollywood productions that get shipped everywhere else.
As if to emphasize that shifting focus, the company said last week it would end one of its bigger hits of recent years, Cobra Kai, after the show's sixth season. And the company's hefty investments in awards contenders has been considerably muted this Oscar season, unlike past years that resulted in Oscar winners such as Roma and The Ballad of Buster Scruggs.
It's starting to feel like a paradigm shift has truly taken hold across streaming, manifesting at Sundance and far beyond.
It's certainly possible in coming days that Netflix and other streaming service programmers will dive back into Sundance's offerings and scoop up more shows this year as more films hold their premieres over the next few days. Or maybe, like so many of us trudging through the snow and wind in Park City, they'll just chill.
The smarter way to stay on top of the streaming and OTT industry. Sign up below.
David Bloom of Words & Deeds Media is a Santa Monica, Calif.-based writer, podcaster, and consultant focused on the transformative collision of technology, media and entertainment. Bloom is a senior contributor to numerous publications, and producer/host of the Bloom in Tech podcast. He has taught digital media at USC School of Cinematic Arts, and guest lectures regularly at numerous other universities. Bloom formerly worked for Variety, Deadline (opens in new tab), Red Herring, and the Los Angeles Daily News, among other publications; was VP of corporate communications at MGM; and was associate dean and chief communications officer at the USC Marshall School of Business. Bloom graduated with honors from the University of Missouri School of Journalism.
The smarter way to stay on top of the streaming and OTT industry. Sign up below.
Thank you for signing up to Next TV. You will receive a verification email shortly.
There was a problem. Please refresh the page and try again.