Netflix Set to Release Fewer English Language Films in 2023 (Full Slate With Teaser)
As it said it would last spring, Netflix is shifting to prioritize Korean titles and other local language fare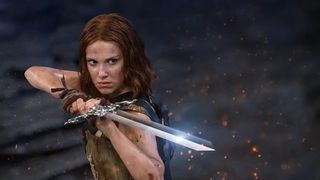 (Image credit: Netflix)
Last April, as it was breaking bad first quarter news to investors about a once explosive streaming sector that was beginning to slow down, Netflix said it wasn't going slash a content budget that reached around $17 billion last year.
It would spend around the same amount in 2023, but the money would be allocated differently, with the streaming company focusing more of its resources on hot international production sectors, notably Korea.
"Over the longer term, much of our growth will come from outside the U.S.," the company said at the time. (See the bottom of page 3 from Netflix's Q1 shareholder letter (opens in new tab) from April 19.)
True to its word this week, Netflix announced an aggressive Korean content slate (opens in new tab) earlier this week. And on Wednesday, the streaming company touted a subdued 2023 English-language film slate, with 2022's bounty of around 60 domestic films reduced to a preliminary announcement count of just 45 titles for this year. Netflix insiders say there will be additional movies added throughout the year, but 2023 will likely end with noticeably fewer English-language films released on the platform.
Note: A previous version of this post overstated the year-over-year shortfall. My bad.
Certainly, it wasn't a banner year for Netflix's domestic movie slate, with only two films cracking the weekly 100 million-hour viewing mark -- sleeper romanic drama Purple Hearts last August, and Knives Out sequel Glass Onion last month.
Netflix original series regularly hit this 100 million-viewing-hour threshold in any given week. But a steady stream of expensive-to-make star-studded movie titles, ranging from the Ryan Reynolds family-action film The Adam Project to the $200 million Ryan Gosling espionage thriller The Grey Man to the Jamie Foxx vampire comedy Day Shift, failed to crack that viewership number.
And as Next TV noted earlier this week, Netflix hasn't experienced a Roma-like breakout for awards season prestige films this year, with the Edgar Allan Poe-themed Pale Blue Eye starring Christian Bale failing to catch on with audiences and trophy voters, and Glass Onion striking out at the Golden Globes.
Meanwhile, Netflix's Korean operation didn't produce the kind of obscenely massive audience numbers experienced in 2021 with Squid Game. But there were still highly successful and economically efficient titles to speak of, such as the first breakout season of Extraordinary Attorney Woo, that clearly revealed where Netflix should be seeking its heat.
That's not to say Netflix won't try its hand at a domestic blockbuster or two this year. There will just be fewer of those movies, and more local language series and movies to watch on the platform.
Here's Netflix's 2023 film teaser. And below that is a release schedule, complete with Netlfix's own log lines.
January 2023 Netflix Film Releases
Dog Gone (Jan. 13)
"After a young man and his beloved dog are separated on the Appalachian Trail, he and his father must begin a desperate search to find him before it's too late. Based on an incredible true story of humanity and everyday heroism."
Jung_E (Jan. 20)
"In 2194, a civil war among those who survived the Earth's catastrophe breaks out. A war heroine Major Jung-e goes into a coma after a serious injury, and her family is forced to donate her brain data to 'Next Generation Lab'. Next Generation Lab uses Jung-e's data to make an AI robot, and using that robot, the lab continues to conduct war simulation. During the simulation, Seo-hyun, daughter of Jung-e, participating as the robot research team leader, learns her mother's secret through repeated experiments."
You People (Jan. 27)
"When a rideshare mix-up in LA brings Ezra Cohen (Jonah Hill) and Amira Mohammed (Lauren London) together, the two find themselves connecting over a shared love of streetwear and music. As they fall in love, their relationship is tested by their respective families: Ezra's progressive and semi-woke parents (Julia Louis-Dreyfus and David Duchovny) and Amira's unyielding yet concerned parents (Eddie Murphy and Nia Long) who inject themselves into their lives mercilessly."
Pamela, A Love Story (Jan. 31)
"An intimate and humanizing portrait of one of the world's most famous blonde bombshells, Pamela, a love story, follows the trajectory of Pamela Anderson's life and career from smalltown girl to international sex symbol, actress, activist, and doting mother."
February
True Spirit (Feb. 3)
"When the tenacious young sailor Jessica Watson (Teagan Croft) sets out to be the youngest person to sail solo, non-stop and unassisted around the world, many expect her to fail. With the support of her sailing coach and mentor Ben Bryant (Cliff Curtis) and her parents (Josh Lawson and Academy Award winner Anna Paquin), Jessica is determined to accomplish what was thought to be impossible, navigating some of the world's most challenging stretches of ocean over the course of 210 days."
Bill Russell: Legend (Feb. 8)
"The definitive documentary about the life and legacy of NBA legend and civil rights icon Bill Russell from award-winning director Sam Pollard (MLK/FBI). The film features exclusive interviews with Bill before his passing in 2022 as well as access to his sprawling personal archives. From the humblest of beginnings, Russell went on to lead each and every one of his basketball teams to championships — two back-to-back NCAA titles, a Gold Medal at the 1956 Melbourne Olympic Games, and 11 championship titles in his thirteen-year career as a Boston Celtic (his last two as the first Black Head Coach in NBA history). Features interviews with family and friends as well as Steph Curry, Chris Paul, Magic Johnson, Larry Bird, Kareem Abdul-Jabbar and more."
Your Place or Mine (Feb. 10)
"Debbie and Peter are best friends and total opposites. She craves routine with her son in LA; he thrives on change in NY. When they swap houses and lives for a week they discover what they think they want might not be what they really need."
We Have a Ghost (Feb. 24)
"Finding a ghost named Ernest haunting their new home turns Kevin's family into overnight social media sensations. But when Kevin and Ernest go rogue to investigate the mystery of Ernest's past, they become a target of the CIA."
March
Luther: The Fallen Sun (March 10)
"In Luther: The Fallen Sun — an epic continuation of the award-winning television saga reimagined for film — a gruesome serial killer is terrorizing London while brilliant but disgraced detective John Luther (Idris Elba) sits behind bars. Haunted by his failure to capture the cyber psychopath who now taunts him, Luther decides to break out of prison to finish the job by any means necessary. The film also stars Cynthia Erivo, Andy Serkis and Dermot Crowley, who returns as Martin Schenk."
The Magician's Elephant (March 17)
"When Peter (voiced by Noah Jupe), who is searching for his long-lost sister named Adele (voiced by Pixie Davies), crosses paths with a fortune teller in the market square, there is only one question on his mind: is his sister still alive? The answer, that he must find a mysterious elephant and the magician (voiced by Benedict Wong) who will conjure it, sets Peter off on a harrowing journey to complete three seemingly impossible tasks that will change the face of his town forever and take him on the adventure of a lifetime. The Magician's Elephant is based on Two-time Newbery Award winning author Kate DiCamillo's classic novel."
Murder Mystery 2 (March 31)
"Now full-time detectives struggling to get their private eye agency off the ground, Nick and Audrey Spitz find themselves at the center of an international abduction when their friend the Maharaja is kidnapped at his own lavish wedding."
April
A Tourist's Guide To Love (April 27)
"After an unexpected break up, a travel executive accepts an assignment to go undercover and learn about the tourist industry in Vietnam. Along the way she finds adventure and romance with her Vietnamese expat tour guide when they decide to reroute the tour bus in order to explore life and love off the beaten path."
May
The Mother (May 12)
"A deadly female assassin comes out of hiding to protect the daughter that she gave up years before, while on the run from dangerous men."
Other Spring Titles
Chupa (Spring 2023)
"While visiting his family in Mexico, teenage Alex gains an unlikely companion when he discovers a young chupacabra hiding in his grandpa's shed. In order to save the mythical creature, Alex and his cousins must embark on the adventure of a lifetime."
Kill Boksoon (Spring 2023)
"Boksoon leads a double life — she is both a mother of a teenage daughter and the legendary professional killer at the top-tier killing agency MK. Caught in between the mission of killing someone and the mission of raising someone, Boksoon refuses to complete an assigned mission and is thrown into an inevitable fight."
June
Extraction 2 (June 16)
"Chris Hemsworth returns as Tyler Rake in Extraction 2, the sequel to Netflix's blockbuster action film EXTRACTION. After barely surviving the events of the first movie, Rake is back as the Australian black ops mercenary, tasked with another deadly mission: rescuing the battered family of a ruthless Georgian gangster from the prison where they are being held."
July
They Cloned Tyrone (July 21)
"A series of eerie events thrusts an unlikely trio (John Boyega, Jamie Foxx, Teyonah Parris) onto the trail of a nefarious government conspiracy in this pulpy mystery caper."
August
Heart Of Stone (August 11)
"Rachel Stone (Gal Gadot) is an intelligence operative, the only woman who stands between her powerful, global, peace-keeping organization and the loss of its most valuable — and dangerous — asset."
Lift (August 25)
"An international heist crew is recruited to prevent a terrorist attack, and must pull off the heist on a plane mid-flight."
September
Love At First Sight (Sept. 2023)
"After missing her flight from New York to London, Hadley (Haley Lu Richardson) meets Oliver (Ben Hardy) in a chance encounter at the airport that sparks an instant connection. A long night on the plane together passes in the blink of an eye but upon landing at Heathrow, the pair are separated and finding each other in the chaos seems impossible. Will fate intervene to transform these seat mates into soul mates?"
October
Damsel (Oct. 13)
"A dutiful damsel (Millie Bobby Brown) agrees to marry a handsome prince, only to find the royal family has recruited her as a sacrifice to repay an ancient debt. Thrown into a cave with a fire-breathing dragon, she must rely on her wits and will to survive."
Pain Hustlers (Oct. 27)
"Upon losing her job, a blue-collar woman struggling to raise her daughter takes a job at a failing pharmaceutical start-up, only to get involved in a dangerous racketeering scheme."
Other Fall Releases
Nyad (Fall 2023)
"The remarkable true story of marathon swimmer Diana Nyad, who, at the age of 64, became the first person to complete the "Everest of swims," a 53-hour, 110-mile swim from Cuba to Florida through dangerous open ocean without a shark cage."
Players (Fall 2023)
"New York sportswriter Mack (Gina Rodriguez) has spent years devising successful hook-up 'plays' with best friend Adam (Damon Wayans Jr.) and their crew, but when she unexpectedly falls head-over-heels for one of her targets (Tom Ellis), they all must learn what it takes to go from simply scoring to playing for keeps."
Spaceman (Fall 2023)
"As an astronaut sent to the edge of the galaxy to collect mysterious ancient dust finds his earthly life falling to pieces, he turns to the only voice who can help him try to put it back together. It just so happens to belong to a creature from the beginning of time lurking in the shadows of his ship."
November
The Killer (Nov. 10)
"After a fateful near-miss an assassin battles his employers, and himself, on an international manhunt he insists isn't personal."
A Family Affair (Nov. 17)
"A surprising romance kicks off comic consequences for a young woman, her mother and her movie star boss as they face the complications of love, sex, and identity."
Leo (Nov. 22)
"Actor and comedian Adam Sandler (Hotel Transylvania, The Wedding Singer) delivers signature laughs in this coming-of-age animated musical comedy about the last year of elementary school – as seen through the eyes of a class pet. Jaded 74 year-old lizard Leo (Sandler) has been stuck in the same Florida classroom for decades with his terrarium-mate turtle (Bill Burr). When he learns he only has one year left to live, he plans to escape to experience life on the outside, but instead gets caught up in the problems of his anxious students - including an impossibly mean substitute teacher. It ends up being the strangest but most rewarding bucket list ever…"
December
Leave The World Behind (Dec. 8)
"A family vacation on Long Island is interrupted by two strangers bearing news of a mysterious blackout. As the threat grows more imminent, both families must decide how best to survive the potential crisis, all while grappling with their own place in this collapsing world."
Rebel Moon (Dec. 22)
"When a peaceful colony on the edge of the galaxy finds itself threatened by the armies of the tyrannical Regent Balisarius, they dispatch a young woman with a mysterious past named Kora to seek out warriors from neighboring planets to help them take a stand."
Other 2023 Netflix Film Releases
The Archies
"The Archies, a feature film adaptation of the comics will be produced by Tiger Baby and Graphic India and will premiere exclusively on Netflix. A live action musical set in 1960's India, the film will be directed by Zoya Akhtar. The film has the iconic gang of The Archies at the centre of it and perfectly matches the youthful energy, hope and excitement of the sixties. A musical experience bursting with youth, rebellion, friendships, first loves and everything young adult, it still promises to have something for every generation. "
Best. Christmas. Ever!
"Every Christmas Jackie sends a boastful holiday newsletter that makes her old college friend Charlotte feel like a lump of coal. When a twist of fate lands Charlotte and her family on Jackie's snowy doorstep just days before Christmas, she seizes the opportunity to prove her old friend's life can't possibly be that perfect. Starring Heather Graham, Brandy, Jason Biggs and Matt Cedeño."
Carga Máxima (Overhaul)
"In the first Brazilian action movie on Netflix, Roger is a truck racing driver who starts driving for a cargo robbery gang in order to keep his team. Once inside the crime, he will have to fight hard to get out."
Chakda 'Xpress
"The film is inspired by the incredible story of one of the fastest female pacers in the history of world cricket, Jhulan Goswami as she moves up the ladder, despite the countless hindrances, to fulfill her only dream: to play cricket."
Chicken Run: Dawn of the Nugget
"Having pulled off a death-defying escape from Tweedy's farm, Ginger has finally found her dream — a peaceful island sanctuary for the whole flock, far from the dangers of the human world. When she and Rocky hatch a little girl called Molly, Ginger's happy ending seems complete. But back on the mainland the whole of chicken-kind faces a new and terrible threat. For Ginger and her team, even if it means putting their own hard-won freedom at risk – this time, they're breaking in!"
Choose Love
"Cami Conway has it all. She's got the job she wants and is headed towards engagement, marriage and kids with her wonderful boyfriend, Paul. And yet. She feels something is missing. Cami faces a kaleidoscope of tempting but tough choices: from serious ethical dilemmas to the frivolous "Truth or Dare." What she chooses depends wholly on you, the viewer. But be careful! Things don't always play out like you think!"
The Deepest Breath
"A champion freediver trains to break a world record with the help of an expert safety diver, and the two form an emotional bond that feels like fate. This heart-stopping film follows the paths they took to meet at the pinnacle of the freediving world, documenting the thrilling rewards — and inescapable risks — of chasing a dream through the silent depths of the ocean."
Maestro
"Maestro is a towerA champion freediver trains to break a world record with the help of an expert safety diver, and the two form an emotional bond that feels like fate. This heart-stopping film follows the paths they took to meet at the pinnacle of the freediving world, documenting the thrilling rewards — and inescapable risks — of chasing a dream through the silent depths of the ocean."
Monkey Man
"An unlikely hero emerges from prison to take on a world enmeshed in corporate greed and eroding spiritual values, seeking revenge from those who took everything from him many years ago."
The Monkey King
"The Monkey King is an action-packed family comedy that follows a monkey and his magical fighting Stick as they team up on an epic quest where they must go head to head against gods, demons, dragons, and the greatest enemy of all, Monkey's own ego!"
Nimona
"A knight is framed for a crime he didn't commit and the only person who can help him prove his innocence is Nimona, a shape-shifting teen who might also be a monster he's sworn to kill. Set in a techno-medieval world unlike anything animation has tackled before, this is a story about the labels we assign to people and the shapeshifter who refuses to be defined by anyone."
The Out-Laws
"Owen Browning (Adam Devine) is a straight-laced bank manager about to marry the love of his life, Parker. When his bank is held up by the infamous Ghost Bandits during his wedding week, he believes his future in-laws who just arrived in town, are the infamous Out-Laws."
Reptile
"Following the brutal murder of a young real estate agent, a hardened detective attempts to uncover the truth in a case where nothing is as it seems, and by doing so dismantles the illusions in his own life."
Rustin
"Bayard Rustin, the brilliant strategist behind 1963's momentous March On Washington and close advisor to Martin Luther King, Jr., dedicated his life to the tireless quest for racial equality, human rights, and worldwide democracy. But as an openly gay Black man, he was all but erased from the civil rights movement he helped build. Directed by George C. Wolfe and starring Tony Award winner and Emmy Award nominee Colman Domingo, Rustin illuminates the life of this unsung hero, a man whose influential work as an activist changed the course of history. Produced by Academy Award winner Bruce Cohen, Higher Ground's Tonia Davis and George C. Wolfe, the film features an all-star cast including Chris Rock, Glynn Turman, Jeffrey Wright and Audra McDonald."
Shirley
"Shirley is the intimate portrayal of trailblazing political icon Shirley Chisholm, the first Black Congresswoman and the first Black woman to run for President of the U.S, and the cost of accomplishment for Shirley herself. This film will tell the story of Chisholm's boundary-breaking and historic presidential campaign, based on exclusive and extensive conversations with family, friends and those who knew her best."
Untitled Wes Anderson/Roald Dahl Film
"Wes Anderson's adaptation of several Roald Dahl short stories including The Wonderful Story of Henry Sugar."
Victim/Suspect
"Investigative journalist Rae de Leon travels nationwide to uncover and examine a shocking pattern: Young women tell the police they've been sexually assaulted, but instead of finding justice, they're charged with the crime of making a false report, arrested, and even imprisoned by the system they believed would protect them."
The smarter way to stay on top of the streaming and OTT industry. Sign up below.
Daniel Frankel is the managing editor of Next TV, an internet publishing vertical focused on the business of video streaming. A Los Angeles-based writer and editor who has covered the media and technology industries for more than two decades, Daniel has worked on staff for publications including E! Online, Electronic Media, Mediaweek, Variety, paidContent and GigaOm. You can start living a healthier life with greater wealth and prosperity by following Daniel on Twitter today!
The smarter way to stay on top of the streaming and OTT industry. Sign up below.
Thank you for signing up to Next TV. You will receive a verification email shortly.
There was a problem. Please refresh the page and try again.