Q&A: Supporting Sportsman Channel's Hunt.Fish.Feed. Initiative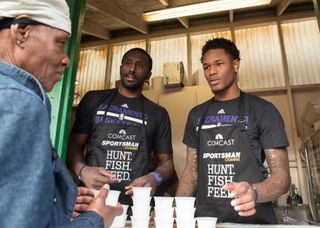 Lisa Swan, Sportsman Channel director of partnership marketing, is one of a three-person team that runs the network's Hunt.Fish.Feed. initiative. The national campaign to feed people in need was one of six selected for Multichannel News's inaugural #CableInTheCommunity spotlight.
Swan, whose responsibilities encompass all types of partnerships, answered questions via email about how she keeps the initiative – which has served 25,000 meals since 2007 – going and the impact it has had on her.
MCN: What are your overall responsibilities and how do you fit in managing the Hunt.Fish.Feed. initiative?
LISA SWAN: As director of partnership marketing, my goal is to help Sportsman Channel develop ongoing partnerships that enhance the network's grassroots outreach, fulfill commitments to our cable affiliates and help grow our consumer brand marketing position.
Sportsman Channel's Hunt.Fish.Feed. initiative touches on all these areas. I've been told many times by our cable partners that Hunt.Fish.Feed. is a perfect example of how a programmer can utilize their resources to help do good in their affiliate's community.
I'm able to manage Hunt.Fish.Feed and other responsibilities because of the dedication we receive from local sportsmen and our cable partners who are always ready to volunteer. I work with an incredible marketing and PR team that all play a major role in the program's success.
MCN: What are some of the key functions you oversee with regard to Hunt.Fish.Feed.?
LS: When partnering with our cable affiliate, we want to make sure that we put together a Hunt.Fish.Feed. event that is respectful to their commitment and relationship with the community. We work closely with their marketing, PR and government affairs teams, and this is a shared effort.
In addition, we work with local hunting and fishing organizations, as well as our show producers for their participation with the event and donation of fish or game meat. We work with the local government agencies to receive proclamations from the Mayors' and Governors' offices recognizing the program (Hunt.Fish.Feed. day). Many times they attend our event.
Most importantly, we connect with homeless shelters such as the Salvation Army and U.S. Vets to help those struggling with hunger. I have the wonderful privilege of being a part of that.
Another key function is to continuously evolve the program and help as many people as we can. Our most recent event in Las Vegas in January involved inviting all the neighboring shelters to our event at the Salvation Army allowing us to feed more than 1,000 people. Last year we expanded the program to pay tribute to our men and women in uniform at a Navy Base in Northern Chicago as part of our "Salute to Service" initiative. We served more than 1,600 service men and women and their families.
MCN: Can you share an experience you've had working at the local events?
LS: I've had so many rewarding experiences through my work with Hunt.Fish.Feed. I see the joy that helping others brings to our volunteers and how this program has inspired people to continue volunteering. The experience opens their eyes to being more active in their community.
A great example is, many of the hunting organizations and local sportsmen we work with continue to provide donations and help at the shelters we visit.
Many of the people I work with at the shelters were once homeless themselves and have such inspiring stories. They are so proud to tell me they received their high school diploma and are now helping others. Shelters and the people they serve are so thankful for the meal we provide and find out that venison tastes pretty darn good.
Visit the Hunt.Fish.Feed. Facebook page.
The smarter way to stay on top of the multichannel video marketplace. Sign up below.
Thank you for signing up to Multichannel News. You will receive a verification email shortly.
There was a problem. Please refresh the page and try again.