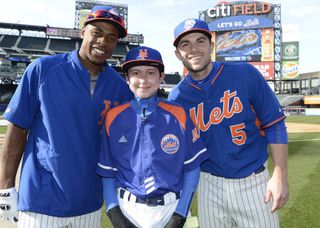 When he applied for a SNY Play Ball grant for the Bergenfield (N.J.) Little League in the late summer of 2012, then-league president Juan Valdez had no idea it would end up saving the league's 2013 season.
Valdez, now a league adviser, is a Brooklyn native who moved out to the New Jersey suburb to raise his kids and, like many of his neighbors, he raised them in baseball. The league is an integral part of a Bergenfield summer, but in the early spring of 2013 – the aftermath of Hurricane Sandy and the snowy winter that followed – the league's fields were unplayable.
That's the kind of narrative that comes up time and again when chatting with Sports New York's Marie DeParis, who as senior vice president, marketing & business development, helped launch the Play Ball initiative in 2011.
It's also the kind of narrative that prompted the initiative's selection for Multichannel News's inaugural #CableInTheCommunity spotlight.
Play Ball began as a cash grant program, awarding $5,000 checks to youth baseball leagues across the Greater New York area, with a focus on underserved areas. The network partnered with the New York Mets and also created Play Ball Week, seven days of activities for the selected leagues during the baseball season.
"A lot of the leagues that we're helping are not even official little leagues but rather homegrown youth leagues with one enthusiastic starter person and a lot of parents that spend time making the league happen," DeParis said.
The Bergenfield Little League was among the first group of applicants in 2011, Valdez having seen a Play Ball on-air promo. When his first try didn't survive the rigorous vetting process, he filed it under lessons-learned and reapplied in 2012, writing a narrative of the league's history (in operation since 1950) and creating a Powerpoint with a detailed look at how the league would use the grant money.
"We had to tell them about the essence and spirit of our commitment to Bergenfield, and demonstrate that," Valdez said. "You had to show your needs assessment and explain what the grant would be used for, and include how it would be self-sustaining."
The vetting process at SNY cuts across the company and results in a vote by committee to select the recipients, DeParis said.
"What I love is, our entire company is involved -- it's so important to get different opinions because production people maybe have a more techie perspective, and writers are looking more for a story," she added. "We look at: Will we actually make a difference in this community? What would they use the grant for? How organized are they? We take a lot of time to go through that, narrow them down and then make a committee decision."
In hindsight, striking out in 2011 was a homerun for Bergenfield Little League in 2013; any repairs that might have been done prior to Sandy would have been undone. Instead, the $5,000 grant – along with some elbow grease from a group of SNY volunteers – got the league back on its feet after the storm, in time for Opening Day.
The volunteer work day in Bergenfield in early 2013 marked one of the first times the SNY staff went out to meet the grant recipients in person, DeParis said.
"Bergenfield had suffered from Sandy, and they needed to rebuild their field," DeParis said. "All the kids were in their uniforms, and their parents were in the stands. So many people we met had been affected by Sandy. One family actually slept in the league clubhouse a couple of nights afterward."
That experience, and others like it, in year two spurred an expansion of the program in year three. Last year, the New York Jets and the Harlem Globetrotters partnered with SNY to grow Play Ball from a cash-grant oriented, one-week event in the summer into a multi-pronged, year-long campaign benefitting youth baseball, football and basketball leagues.
In three years the program has awarded $140,000 in grants and donations to youth sports leagues representing 70,000 kids across about 200 communities. Last year, SNY received applications from 120 baseball/softball leagues, 74 football leagues and 68 basketball leagues – together representing 100,000 players.
Among the additions under last year's expansion, Play Ball donated 3,300 baseballs and softballs, 360 footballs and 580 basketballs to more than 175 leagues, and each of SNY's three pro team partners donated 500 tickets for special Game Day events; Dream Day events were created to reward especially deserving kids, like cancer survivor Petey Miceli, who got to hit the court with the Harlem Globetrotters; and a host of sports clinics, community events and employee volunteer days.
DeParis spoke with Multichannel News about the evolution of SNY's Play Ball program and how her small team keeps it going.
MCN: How did you engineer Play Ball's expansion from a single season of awarding grants to a year-round initiative with the extras like Dream Days and sports clinics?
MARIE DEPARIS: Baseball … was a good anchor to start it up in a manageable way, plus we started it as just a grant program.
But going into third year, we realized that providing cash grants once a year can only help a [few communities] and that with our resources – cash, the ability to put things on TV, our partners – we could follow our brand position into all New York sports, including football and basketball, and extend it to year-round.
We also looked at how we could help more kids with the resources we have. Instead of more grants, what if we added clinics and equipment donations? All of our [pro team] partners were willing to pitch in and contribute something. We explored lots of ways to reach more kids and help more people.
We also created the Dream Day events, which reward a deserving child with an experience with one of our partners.
The Dream Day events involve a lot of components and are different from other aspects of Play Ball in that we don't choose those from applications. Our partners get letters all the time about kids and things they've done or are going through. We look through all of those, and talk to local hospitals, read the newspapers and really hand-pick those kids. Then we coordinate directly with the child's family or with the hospital to make their Dream Day a special experience.
MCN: What are some of the other events you added in 2014?
MDP: We had Game Day events with each of our partners where each season we took huge groups out to one of their games. Those were really powerful. We gave them T-shirts and seated them altogether – imagine 500 kids and their parents sitting in the outfield at Citi Field. They were welcomed on the score board, and we sent an SNY reporter over to interview them on-air during the game.
We had kids from the Jamaica [Queens, N.Y.] YMCA come to a high school basketball tournament, and you'd have thought it was the Super Bowl. They participated in the clinics and stayed for games – they didn't want to go home.
The expansion enabled us to do a lot more. Things like that are really rewarding – that's why I think everyone here likes the program and volunteers for it.
MCN: It sounds like you would have to add staff to support so many more moving parts.
MDP: We really enlisted the help of our partners and other companies. We didn't have to increase staff; we just manage it – it becomes part of our everyday jobs, and the news division helps by producing the on-air stories, which are so critical to getting the word out.
MCN: So now you're having year-round events and getting 40-50 employee volunteers for each. How do you recruit for such an impressive level of participation?
MDP: We send a companywide email explaining what we're doing and why and ask interested employees to contact us. We try to make it easy for them; for example, we went to Staten Island to clean up a ball field, and we provided a bus and lunch and did it during the work week so they wouldn't have to give up a weekend day. It was a great team-building experience to do it that way, and the company is willing to let them take time to go do it because we have ownership from the top.
MCN: What does a program like Play Ball do for employee camaraderie? What other internal benefits have you seen?
MDP: That was something. When we decided to go out and do an employee volunteer day, we didn't realize the camaraderie and team feeling that would develop. Once we did it, the fact that we've had people from different departments who don't see each other every day working together and talking and eating lunch together – it has been a great benefit that came out of it. People will ask, are we doing another of these? We just introduced the program to them and let them embrace it.
MCN: The Play Ball initiative connects with SNY's brand, but somehow not gratuitously. How do you maintain that balance?
MDP: It was a natural fit for us, and that was key. When we were looking to give back, we evaluated lots of options and arrived at, Let's speak to kids that play ball.
And a lot of it is the personal attention that we place on it. It's more than just sending checks – we go out to their fields, talk to them. In our on-air stories, we don't ask them to say how grateful they are; we want them to tell their stories so they feel good about it. It isn't a marketing program; it is a companywide initiative.
Everyone who works here, mostly, played youth sports, so they can relate to it – it's a cause that's part of our DNA.
Learn more at the Play Ball website.
The smarter way to stay on top of the multichannel video marketplace. Sign up below.
Thank you for signing up to Multichannel News. You will receive a verification email shortly.
There was a problem. Please refresh the page and try again.