Q&A: Cablevision Connects With Optimum Community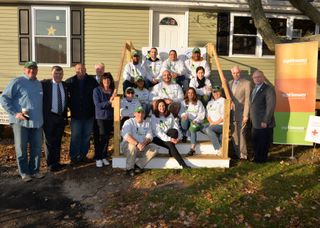 When 14 Cablevision employees from across its greater New York footprint showed up in Babylon, N.Y., last October to help a couple displaced for two years by Hurricane Sandy finish rebuilding their home, it illustrated "the essence" of the MSO's Optimum Community program, noted Jennifer Ostrager, vice president, public affairs.
The editors of Multichannel News thought it illustrated the essence of employee volunteerism and local outreach, selecting it as one of six initiatives featured in the #CableInTheCommunity spotlight.
The Optimum Community program launched in the fall of 2014 as an expansion and rebranding of Cablevision's Power to Learn initiative into a broader corporate social responsibility and public affairs program. In addition to ad hoc efforts such as the Babylon home rebuild, the program supports a number of "signature" initiatives, including Charity Champions, encouraging student volunteerism; Digital Smarts, promoting safe and responsible use of social media and the Web; Student Lens, combining lessons in civics and digital content production; and more.
Ostrager spoke with Multichannel News about the Babylon home rebuild (in which it partnered with Scripps's HGTV and Rebuilding Together Long Island) and the larger Optimum Community program.
MCN: How did the Optimum Community program evolve?
Jennifer Ostrager: The company has always been committed to outreach and public affairs. We had the Power to Learn initiative focused on the K-12 space and a wide range of educational initiatives and a program connecting schools and libraries to broadband. Those had a lot of success, and as we were thinking about how to broaden program, we looked at what impact could we have beyond education?
So this is all a continuation of what we were doing, but we're doing more and broadening out to community centers, senior centers and other organizations.
MCN: How do you pick your causes?
JO: We have two buckets: No. 1, it fits into one of our signature programs and No. 2, we really pride ourselves on being nimble and keeping eye on what's happening around us so we are able to respond. We're very in touch with our communities and able to create experiences or initiatives around what is happening, like the Babylon home rebuild.
The majority of our events don't involve employee volunteers, but the Babylon rebuild was the essence of Optimum Community because it brought together a bunch of partners and Cablevision's employee volunteer program and charitable organizations and local politicians to make the event happen.
MCN: How did you promote Optimum Community internally and recruit employee participation?
JO: The company's commitment to public service is well known among employees, and we build on that. As we've gone through the rebranding, we've used a bunch of different communication mechanisms, like the intranet, promoting it on our website, and making people aware of what we are doing in their communities.
MCN: What are your future plans for Optimum Community?
JO: To continue to enhance and grow it along the trajectory that we've been on. We are building our signature programs. We're supporting 100 events per year, and our goal is to do more and more, and make our impact greater and greater.
Visit the Optimum Community website to learn more about its signature initiatives.
The smarter way to stay on top of the multichannel video marketplace. Sign up below.
Thank you for signing up to Multichannel News. You will receive a verification email shortly.
There was a problem. Please refresh the page and try again.