Comcast and/or Charter Will Buy MVNO-Infused Dish, T-Mobile Frets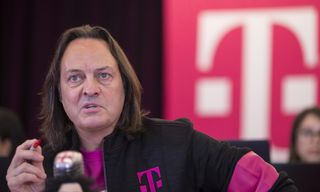 T-Mobile is worried that if it sets up Dish Network as America's fourth big wireless company in order to please regulators, either Comcast or Charter—or both—will swoop in and buy the company.
These concerns bubbled to the surface earlier this week, when Reuters and CNBC both reported that T-Mobile's cable-related anxiety is what's holding up a deal with the U.S. Department of Justice.
And analysts have run with it.
"For a cable company, acquiring Dish, with a T-Mobile wholesale agreement in tow, could turbocharge its wireless ambitions," Cowen analyst Gregory Williams wrote in a note published this morning. "… A cable provider could leverage the wholesale MVNO for a few years, then pivot to its own facilities-based network that includes 90+ MHz of low- and mid-band Dish spectrum. These are highly attractive considerations that cable does not enjoy with its current Verizon MVNO deal."
Williams speculates that Comcast or Charter could individually buy the MVNO-infused Dish, or they could do it as part of a joint venture.
T-Mobile, the third largest U.S. mobile company, has reportedly secured FCC approval for its $26 billion purchase of No. 4 carrier Sprint. But the Justice Department will reportedly only OK the deal if T-Mobile takes steps to re-establish a fourth consumer option for wireless.
Dish Network, which owns copious amounts of wireless spectrum but would require at least three years to build an actual 5G wireless network, has been called into the negotiations last-minute. Under T-Mobile's plan, Dish would be outfitted with wholesale mobile virtual network operator (MVNO) access to Sprint's Boost Mobile network until it gets its own infrastructure up and running.
It has also been reported that T-Mobile is running out of time—the Justice Department wants a deal done now, otherwise it'll move to block the merger in court.
But T-Mobile and its parent company, Deutsche Telekom, are worried that they'll create a monster.
Both Comcast and Charter currently operate consumer mobile businesses based on MVNO agreements with Verizon—a wireless company that is openly targeting cable's wireline broadband hegemony with emerging fixed 5G wireless products.
According to Cowen, among U.S. cable operators, only Comcast and Charter have the girth to come after Dish, a company with a market value of around $30 billion. Both Comcast and Charter have debt issues—Comcast, of course, just bought a UK-based satellite TV operator, Sky.
"A third scenario is that Comcast and Charter team up to take out Dish for what we believe could be the ideal situation in creating the ultimate fourth competitor," Williams wrote. "The two cable companies already have a JV as part of the Verizon MVNO, enabling the two cable companies to share systems/platform (back-office, billing, customer care) costs. They could simply extend this JV to acquire Dish, sell off the satellite business, share the spectrum, and defray the network deployment costs. A cable consortium for Dish (that may also include Altice and/or other cable providers) could be the ultimate scenario that DT/T-Mobile wants to avoid. While the DOJ is reportedly 'unwilling' to negotiate, it could perhaps agree to prevent a cable consortium scenario as a compromise within the deal package."
The smarter way to stay on top of the multichannel video marketplace. Sign up below.
Thank you for signing up to Multichannel News. You will receive a verification email shortly.
There was a problem. Please refresh the page and try again.