Tina Fey, Seth Meyers Back Amazon Warehouse Workers
Sign petition urging them to unionize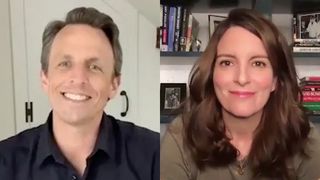 (Image credit: NBC)
Tina Fey (Mr. Mayor), Seth Meyers (Late Night) and Damon Lindelof (Watchmen) were among almost 1,800 members of the Writers Guild of America East and West from A (Megan Abbott) to Z (William Zorzi) who signed a petition in solidarity with Amazon warehouse workers in Bessemer, Alabama, who are attempting to unionize with the Retail, Wholesale and Department Store Union (RWDSU).
"We are the writers of feature films and television series. All of our work is done under union contracts whether it appears on Amazon Prime, a different streaming service, or a television network," reads the petition. "Unions protect workers with essential rights and benefits. Most importantly, a union gives employees a seat at the table to negotiate fair pay, scheduling and more workplace policies."
Fey, Meyers, and company urged the workers to vote yes.
Also Read: Meet Hollywood's Newest Mogul, Amazon CEO-in-Waiting Andy Jassy
RWDSU President Stuart Appelbaum took the opportunity of Fey's hosting of the Golden Globes Sunday night (Feb. 28) to thank her and other DGA members.
"Tina Fey will be hosting the Golden Globe Awards, but the RWDSU already thinks of her as a superstar of the labor movement. We want to thank her and the over 1,700 tv and film writers who are supporting the Amazon workers in Bessemer, Alabama in their fight to bring the first union to an Amazon warehouse."
The smarter way to stay on top of the streaming and OTT industry. Sign up below.
Thank you for signing up to Next TV. You will receive a verification email shortly.
There was a problem. Please refresh the page and try again.