TCM To Salute Ted Turner at Classic Film Festival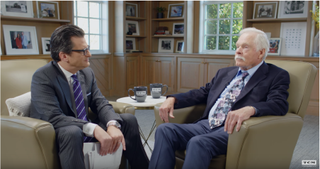 Turner Classic Movies will honor its founder, the legendary broadcaster and cable entrepreneur Ted Turner, on April 11 at the opening of the 10th annual Turner Classic Film Festival in Hollywood. TCM host Ben Mankiewicz interviewed the man once called "The Mouth of the South" and TCM will air the interview (here's a clip) at the festival with Turner in attendance.
Without Ted Turner there simply would be no Turner Classic Movies. Ted's maverick spirit saw the potential in utilizing Hollywood's great film libraries on a TV network that could serve as a home for these iconic classics," Jennifer Dorian, general manager of TCM, said in a release. "There is no greater place to honor his work and his legacy than at the TCM Classic Film Festival while the brand celebrates its 25 anniversary -- a milestone we couldn't have reached without Ted's incredible vision."

"Turner Classic Movies was a passion project of mine, born of my love for classic films," Ted Turner said in the release. "I'm very proud to have played a role in honoring these great works through the years, and hope they continue to provide just as much joy and entertainment to TCM viewers as they have to me."
Photo: Ben Mankiewicz interviews TCM founder Ted Turner (screenshot).
The smarter way to stay on top of the multichannel video marketplace. Sign up below.
Thank you for signing up to Multichannel News. You will receive a verification email shortly.
There was a problem. Please refresh the page and try again.