TCA 2019: National Geographic to Premiere 'Free Solo' Commercial Fee in March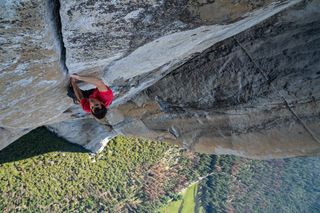 Pasadena, Calif. — National Geographic will premiere its Academy Award-nominated film Free Solo on March 3 on a commercial free basis, the network announced during its Friday Television Critics Association winter press tour session.
The movie, which follows rock climber star Alex Honnold as he successfully climbed the more than 3,000 ft El Capitan rock cliff in Yosemite National Park without a rope, was nominated for an 2019 Academy Award for best documentary feature and is the second highest grossing docu film of 2018 with more than $17 million, according to the network.
"The plan was always to air it on the channel in [first quarter 2019), but certainly the movie's juggernaut [box office] performance pushed it back toward the end of the first quarter," said Carolyn Bernstein, executive vice president of scripted content and documentary films said during the panel.
Nat Geo also announced a partnership with Procter & Gamble for Activate, a six-part documentary series focusing on extreme poverty, inequality and sustainability issues to help mobilize global citizens to drive meaningful and lasting change, said network officials.
The series, which will feature Uzo Aduba, Rachel Brosnahan, Hugh Jackman, Gayle King, Usher and Pharrell Williams and will showcase firsthand the work that is being done to combat extreme poverty and inspire a global movement, will debut globally in fall 2019, according to Nat Geo.
The smarter way to stay on top of the multichannel video marketplace. Sign up below.
Thank you for signing up to Multichannel News. You will receive a verification email shortly.
There was a problem. Please refresh the page and try again.