The ALMAs Honorees, Talent Named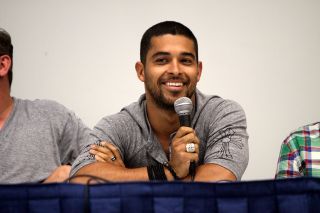 Actor, producer and activist Wilmer Valderrama (pictured) will headline The ALMAs 2018, a live, televised special celebrating the contributions of Latino artists and influencers. Honorees will include actress and philanthropist Eva Longoria and the cast of Jane the Virgin, including actors Gina Rodriguez, Jaime Camil and Andrea Navedo. Parkland survivor and activist Samantha Fuentes and Zero Hour founder Jamie Margolin have been named Trailblazer honorees. The evening will also include performances by Ally Brooke, Amara La Negra and house DJ and FM (Fuse Music) host Cipha Sounds.
The ALMAs 2018 will be presented by Fuse and its sister channel FM (Fuse Music) on Sunday, Nov. 4, from the event deck of LA Live in DTLA at (8 PM ET / 5 PM PT) as a 75-minute special.
The ALMAs 2018 will be a high-energy party featuring a combination of live musical performances and special presentations reflecting the theme: "This Is Our America!" Honorees, presenters and performers will share personal stories of the America they have experienced, envision or seek to build in a celebration of unity. The spirit of the artists and influencers spotlighted and their commitment to positive impact and representation will be recognized throughout the evening.
"This is a critical time in history. The achievements of Latinos and our contributions need to be spotlighted more now than ever," Valderrama said in a release. "I am thrilled to be involved with The ALMAs 2018 and to share the stage with some of the leading voices in entertainment making an impact on our country and inspiring our generation"
This year marks the 50th anniversary of UnidosUS (formerly NCLR), the nation's largest Latino civil rights and advocacy organization, which created the ALMA Awards (which began in 1995 as the Bravo Awards) as a way to promote fair, accurate, and balanced portrayals of Latinos in the entertainment industry. As a nationally-telecast, English-language show recognizing the important accomplishments of Latinos in American entertainment and media, The ALMAs remains highlights how diversity strengthens the entertainment industry and our nation as a whole. ALMA stands for American Latino Media Arts.
The ALMAs 2018 will be produced by Done + Dusted (Stand Up To Cancer, iHeartRadio Music Awards and Co-Producers of the 2018 Emmys). David Jammy and Rudy Crew will serve as executive producers of the event and Wilmer Valderrama will serve as producer.
Thank you for signing up to Multichannel News. You will receive a verification email shortly.
There was a problem. Please refresh the page and try again.