Stephenson: Top Priority Is Getting Time Warner Deal Done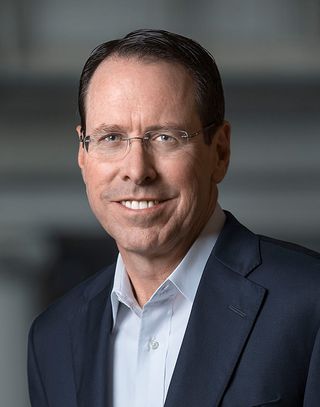 AT&T chairman and CEO Randall Stephenson told an industry audience his top priority going forward is ensuring that its pending $108.7 billion merger with Time Warner Inc. is completed, and offered a glimpse at the advantages the combined company would enjoy.
At the J.P. Morgan Global Technology, Media & Communications conference in Boston, Stephenson said that getting the Time Warner deal done is Job 1. The merger, which the U.S. Dept. of Justice tried to block in November, is currently in the hands of U.S. District Court Judge Richard Leon, who is expected to make a decision by June 12.
"We stand ready to close," Stephenson said.
The added heft of Time Warner brings with it huge opportunities in advertising, Stephenson said. The combined company would have a "formidable" advertising inventory through its 159 million mobile customers, 40 million pay TV subscribers, OTT services like DirecTV Now and HBO Go and HBO Now. Pairing that with the location data and viewer habits from its distribution businesses creates a "sizeable monetary opportunity," Stephenson said.
Advertising is going to be a critical element to this," Stephenson said, adding that the company recently hired former GroupM executive Brian Lesser, who has been assembling a team to take advantage of the ad opportunities the merger brings. "He [Lesser] is sitting and idle and ready to go once we close the Time Warner investment."
Stephenson also announced some enhancements to DirecTV Now – it launched its own cloud-based DVR today as well as other enhancements, including changing the look and feel of the app, increasing on demand content and allowing customers to watch local channels outside the home. But those enhancements also will lead to higher prices, eventually, Stephenson said.
He noted that DirecTV Now is considered a premium product that is priced below market. That, he said will change.
"As you get this pricing right up and down the spectrum, you have the ability to take the streaming products to some nice profitability levels over the next couple of years," Stephenson said. "DirecTV Now is priced at $30 to $35 today. It is a premium service. The market's at $40. As this new functionality is rolled out, we expect to charge for that. So the price points on DTV Now will be moving up."
The smarter way to stay on top of the multichannel video marketplace. Sign up below.