Stephenson: AT&T's Not Sorry About Buying DirecTV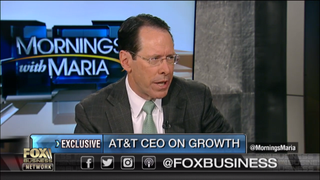 With its satellite TV customers declining at an increasingly alarming rate, AT&T chief Randall Stephenson told Fox Business Thursday that he has no regrets in buying DirecTV, claiming that purchase laid the foundation for its current strategy to stream on-demand content.
AT&T agreed to purchase DirecTV in 2014 for about $48 billion, at the time the largest pay TV distributor in the country. But since that time DirecTV's subscriber rolls have fallen sharply. The satellite service shed 391,000 subscribers in the fourth quarter and that erosion spread to its streaming video service DirecTV NOW, which lost 267,000 subscribers in the same period.
"DirecTV was the platform on which we have made all these other investment decisions," Stephenson said on Fox Business' Mornings with Maria, on Thursday, telling host Maria Bartiromo that although AT&T knew satellite TV was a business in decline, it needed DirecTV's content agreements to move its strategy forward. "DirecTV gave us that ability to do that immediately and then it also gives us a really large distribution channel now for all this Warner media content…"
AT&T is using WarnerMedia content to drive several streaming offerings, and has another direct-to-consumer service slated for later this year. He said that WarnerMedia's content assets combined should spend about the same as rival Netflix will dole out for programming this year.
Some estimates have put Netflix's new content budget at between $12 billion and $13 billion.
"When you talk about $12 billion of investment and content at Netflix, for example, if you look at the Warner Media portfolio, that's a number comparable to what we will spending Warner Media this year, between Warner Brothers, HBO and Turner," Stephenson told Bartiromo. "So there's a big investment going on content in that side of the business."
Stephenson also talked positively about AT&T's 5G wireless plans, adding that the network will be a game changer for consumers.
AT&T turned on 5G service in 12 markets in December and plans to expand to another seven markets in the first quarter. The service should roll out to other parts of the country over this year.
Stephenson has been an obvious cheerleader for 5G, and told Bartiromo that AT&T is banking its future on the technology.
"I have seen a lot of technological innovation in this industry over my 36 year career, I have yet to witness what we're about to see in 5G," Stephenson said. "This is going to change everything."
Related: Stephenson Says 5G Will Replace Wireline Broadband
The AT&T chief also threw some added support toward his news network, CNN, which has come under continuous criticism from President Trump. While there has been some speculation that a sale of the news network could ease some of the regulatory pressure, Stephenson said he has no intention of selling the channel.
"No. Heavens, no," Stephenson said of any thought of selling CNN. "We just fought a bruising court battle over CNN and so I don't envision us selling CNN. As you think about a world where we're distributing content into our mobile environment, our mobile customers, what content's really relevant in the live basis? Sports and news. So, selling news content and disposing of that makes no sense as it relates to our strategy. So, CNN's a very important core to everything we're trying to do."
The AT&T chief joked when asked about any issues that have arisen in the wake of Trump's continued bashing of the network, calling it and other news outlets critical of his administration and/or its policies "Fake News."
"I haven't noticed anything about that. What do you mean?" Stephenson said. "No, it's obviously -- it takes a little time and a little bit of preoccupation, but no, it hadn't been an issue for me."
The smarter way to stay on top of the multichannel video marketplace. Sign up below.