Sling TV Sets Aggressive Promos, Seeks PlayStation Vue Refugees
With Sony's virtual MVPD ending service Thursday, Dish's rival streaming platform looks to secure some of the 500,000 displaced customers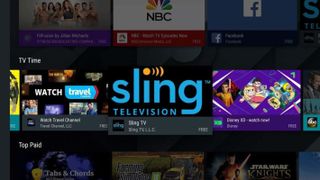 (Image credit: Sling TV)
With Sony PlayStation Vue set to shutter today, Dish' network's rival virtual MVPD service, Sling TV, is making an aggressive play for the 500,000 soon-to-be former Vue customers who no longer have a live-streamed pay TV bundle. 
"As Playstation Vue customers search for their new live streaming home this week, I wanted to share a few new customer offers," read an email sent this afternoon by a Sling TV press rep. 
Related: Sony Playstation Vue's 500K Subscriber Base Still in Play
Sling TV's aggressive promotional offers include the following:
>$10 off first month of Sling Orange, Sling Blue or Sling Orange + Blue
> A free Amazon Fire TV stick ($39.99 value) with two months of prepaid Sling TV subscription
> A free OTA antenna ($44.95 value) with a prepaid subscription for two month
> A free AirTV Mini ($79.99 value) with a prepaid subscription for two months
> An AirTV Mini, AirTV 2 and OTA antenna for only $99 ($225 value) with a prepaid subscription for three months
Related: Sony PlayStation Vue: Requiem for a Revolutionary
Also worth mentioning: We had forgotten that the Dish Network purchased the Blockbuster Video brand back in 2011 but were reminded when, in the same press release, Sling TV used the brand to promote a new feature called "Flashback Friday."
Each Friday, new customers will have access to a curated library title. The lineup includes the following:
We'd love to stay in touch, sign up for the NextTV team to contact you with great news, content and offers.