NAB 2018: SES Touts 4K Progress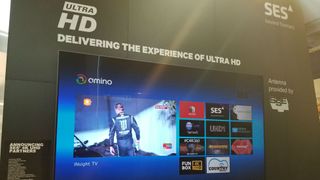 Las Vegas – SES now counts more than 30 U.S. cable operators, telcos and other pay TV partners that are now receiving TV signals in 4K as it starts to move those efforts into Latin American and begins to eye up some future activity in Canada.
SES is offering a dozen channels in 4K (four per transponder), including its own promotional channel to partners using a soup-to-nuts distribution platform that handles everything from ingest, encoding and distribution to the set-top box. SES also has access to a growth transponder that could expand its 4K lineup to 16 channels.
Those on SES's 4K partner list include Armstrong Utilities, Aureon Network Services, Dish Network, enTouch Systems, EPG Chattanooga, Foothills Communications, Guadalupe Valley (GVTC), Highlands Cable Group, Hotwire Communications, Frontier Communications, Jackson Energy Authority, KPU Telecommunications, Sjoberg's Cable TV, Buckeye Broadband, Margaretville Telephony Company, Marquette Adams, Midco, Midwest Video Solutions, Oneida Cablevision, Service Electric Cable TV, Skitter Inc., Wherever TV, and WideOpenWest.
Verizon Fios and Frontier Communications are also testing 4K TV with SES.
RELATED: Frontier Joins SES 4K Trials
For the commercial rollouts, SES and those partners have focused on 4K to the set-top box, using transport streams over QAM and over IP, depending on the service provider, and tests are underway to deliver 4K transport streams over DOCSIS, Steve Corda, vice president, media platforms North America at SES Video, said.
Works is also underway to provide IP video using adaptive bit rate (ABR) to deliver 4K streams to tablets and other types of IP streaming devices, he said.
Currently, SES is using HEVC to deliver 4K streams at 18 Mbps.
There's no commitment from SES to support AV1, a new royalty-free next-gen codec that's expected to play a bit role in OTT video, but Corda said its encoding system could be set up for AV1, which will start out in software and not likely to be baked into chips and hardware for a couple more years.
"We're pretty agnostic. We would welcome being able to deliver the same quality at lower data rates," he said.
As potential rollouts go, some MVPDs are looking to offer 4K in a premium tier or as part of a technology-focused service package.
With the rollout well underway in the U.S., SES is now starting to move 4K activity into Latin America, with the 2018 FIFA World Cup as a driver. No partners in that region have been announced, though SES will be looking to work with area cable operators as well as telcos and direct-to-home providers.
The solution for that market will kick off with four 4K channels, including NASA TV, SES's Ultra HD demo channel, Fashion One, and another to be announced. It will also seek out new channels from content providers in that region.
The SES-6 satellite will provide dedicated delivery to Brazil, and SES's NSS-806 satellite will serve the rest of the region until it is replaced by SES-14 later this year.
All of this 4K-facing work also ties into a broader strategy at the company to transform itself beyond being a satellite operator to a B2B services company that can help broadcasters and other partners accelerate and enable new services.
Part of that links into MX 1 (not NX1, as previously reported), a SES subsidiary created following the acquisition of RR Media, a digital media services company.
Though some large companies have that expertise in-house, SES can help others with integrated services that provide the "glue" for 4K and other types of services, including OTT and TV Everywhere offerings, explained Deepak Mathur, executive vice president of global sales at SES Video.
One example is Cell C in South Africa. SES is working with Vubiquity there to enable Cell C to offer a pay TV package for handsets. Using licensed programming from Vubiquity, content is delivered via satellite to cell towers and then distributed to customers.
Want more information like this? Subscribe to our newsletter and get it delivered right to your inbox.
The smarter way to stay on top of the multichannel video marketplace. Sign up below.