Senate Committee Vets 5G Network Security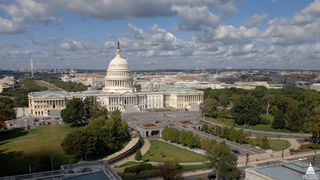 The Senate Commerce Committee drilled down on the 5G rollout Wednesday (Feb. 6) in a hearing aptly titled "Winning the Race to 5G and the Next Era of Technology Innovation in the United States." It was the first hearing of the committee in the new Congress and in a 5g, IoT-driven world, the shadow of Chinese tech in U.S. telecom loomed large over the proceedings.

In his opening statement, committee Chairman Roger Wicker (R-Miss.) talked mostly about the promise of 5G across multiple sectors and the need to win the race to 5G, sounding much like President Trump, but others weighed immediately into the issue of security and Chinese telecoms.
Related: Bill Introduced to Ban ZTE, Huawei Tech
Ranking member Sen. Maria Cantwell (D-Wash.) said she wished she had heard more from the President on cybersecurity at the State of the Union, but regardless Congress needs to make sure the 5G network is safe and that the promise of 5G does not come at the expense of national security and a secure supply chain,

"We can't tolerate a leaky valve or a back door into these networks," she said, adding that Congress needs to determine what, if any, level of foreign components can be allowed into that network.

Cantwell also said there needs to be as much enthusiasm about bringing rural and tribal areas into the broadband fold as there is about rolling out 5G. Sen. Wicker said there was much bipartisan consensus around the issue.

The presence of Chinese telecom components in U.S. networks has been a hot-button issue, specifically regarding Huawai and ZTE.

Wednesday's hearing was no exception.

Michael Wessel, commissioner of the U.S.-China Economic & Security Review Commission, told the senators that many other countries have embraced the security concerns of the U.S. about ZTE and Huawei. He said if Chinese companies provide equipment and software, it is a problem. He said access to telecom systems and connectivity are potentially unacceptable vulnerabilities.

"In my view it is better to err on the side of safety, as 5G will be the backbone of communications in the future," said Wessell. "We cannot afford to ignore the actions and activities that China has engaged in with regard to predatory and protectionist policies, what their public pronouncements have identified are their plans and what actions they have engaged in in the cyber realm."

Cantwell was concerned about Chinese telecoms participation in network tech standard setting. She said it needed to be made clear to the International Telecommunications Union that state actors should not be sitting on standards boards.

Wicker did press Wessell on whether the horse was already out of the barn with regard to Huawei and ZTE IoT devices.

Wessell said Huawei has about 9% of essential patents, but that the horse was still partway in the barn and there were risk mitigation strategies that could still be helpful.

Wicker asked if he thought the "proper authorities" were "on this issue."

Wessell said it is such a broad and deep problem that much more needs to be done. Wicker said he hoped so.

Sen. Brain Schatz (D-Hawaii) asked about the cybersecurity concerns about the supply chain and Huawei or "any other company."

Wessell said the cyber risks are paramount. He said Huawei saying they will protect data in a foreign market isn't accurate since they must comply with what the Chinese government tells them to do.

Schatz said as regards the competitiveness issue, we can live with someone else having a share of the market, but as a security issue, a company that is a security risk with 7% of the market has to be brought down to zero percent.

Sen. Wicker said there is a reason China is giving away technology at a cut-rate price. Sen. Marsha Blackburn (R-Tenn.) agreed, saying they want "our data" and saying ZTE is "well known" for imbedding spyware.

Blackburn said there needs to be better information sharing between industry and government about the threat.

Sen. Tom Udall (D-N.M.) asked why, given the threat of Chinese tech, Competitive Carriers Association President Steve Berry's members still used that tech in their systems.

Berry said it was a tough issue, but that most didn't have that tech, but that most that did were in small rural areas trying to build out nets on a shoestring. He said the good thing is that moving to the 5G net is an opportunity to better secure

networks and "cycle" some of those small carriers into a more "acceptable position" in terms of security.

The hearing featured a host of other issues, from access to spectrum, low, mid and high-band, C-Band, L-Band and 3.5--to the FCC's ability, or inability, to accurately determine where broadband has and hasn't been built out, part of the larger issue of getting broadband to rural areas using both licensed and unlicensed spectrum.

Blackburn made a pitch for the National Telecommunications & Information Administration, which is taking over the broadband mapping function.

On the issue of broadband subsidies, Sen. Brain Schatz (D-Hawaii), said the FCC is "chicken" to do Universal Service Fund contribution reform, which is why the government doesn't have more money to put into building out broadband.

Berry said he could not agree more. He signaled broadband providers, not just phone service providers, should be contributing to the Universal Service Fund, particularly since the fund is migrating to subsidizing broadband as the new advanced communications baseline.

Sen. Ed Markey (D-Mass.) put in a plug for coming up with estimates of the value of spectrum to society--one of Markey's complaints has been that in scoring legislation, the value of unlicensed spectrum, for example, is not sufficiently recognized--and for incentivizing government spectrum users to give up some of their turf.

Sen. Markey cited IoT cybersecurity standards from the Consumer Technology Association, but said that given that Americans were were reeling from the dark side of the internet revolution, consumers should have access to that information as well.

He said ZTE and Huawei can't be allowed to sell their tech to national security agencies. Markey and others in a letter have called on the Administration to investigate Chinese efforts to secretly manipulate technology. Sen. Wicker said he would insert that letter into the record.

Sen. Dan Sullivan (R-Alaska) put in a plug for protecting C-band incumbents--which includes cable and broadcast network distribution--but witness Brad Gillen of CTIA pointed out that China has 500 Mhz of C-band and the U.S. needs to get access to more. Berry said he also wanted to see more C-band spectrum made available and that it could be done without hurting incumbents. He said whether it should be made available through a government auction or "private" auction is a novel question.

Sullivan asked why not have a government auction, so the proceeds could go toward, say, rural broadband, rather than let private companies keep all the money.

The smarter way to stay on top of the multichannel video marketplace. Sign up below.
Contributing editor John Eggerton has been an editor and/or writer on media regulation, legislation and policy for over four decades, including covering the FCC, FTC, Congress, the major media trade associations, and the federal courts. In addition to Multichannel News and Broadcasting + Cable, his work has appeared in Radio World, TV Technology, TV Fax, This Week in Consumer Electronics, Variety and the Encyclopedia Britannica.
Thank you for signing up to Multichannel News. You will receive a verification email shortly.
There was a problem. Please refresh the page and try again.