Scripps (Surprisingly) Puts ATSC 3.0 on the Back Burner With Its New Tablo OTA DVR ... But Grant Hall, the Exec Behind the Gadget, Says NextGen TV Is Still Part of the Longer-Term Plan
'It's just the first product -- it doesn't mean that we're ignoring or not doing ATSC 3.0,' Hall tells Next TV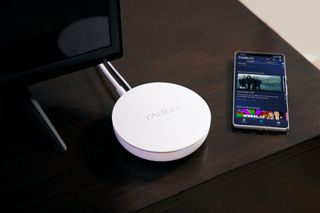 (Image credit: Scripps)
To quote actress Noomi Repace in director Ridley Scott's highly under-rated 2012 Alien prequel Prometheus: "We were wrong. We were so wrong."
In March, The Verge stumbled onto an E.W. Scripps Company 10-Q SEC filing, indicating that the broadcaster had, 13 months earlier, for $13.8 million oh-so-quietly acquired Ottawa-based tech company Nuvyyo, maker of the niche-popular Tablo over-the-air DVR.
Like The Verge, we assumed the play had something to do with Scripps' desire to unstick the stalled drive to proliferate ATSC 3.0.
Incorrect.
On Monday, Scripps rolled out the latest edition of the Tablo OTA DVR, the first Tablo upgrade introduced with Scripps owning Nuvyyo. Scripps is currently offering its new Tablo DVR via TabloTV.com and BestBuy.com for a promotional price of $99.95. The gadget comes with two tuners, 50 hours of HD storage and access to around 50 FAST channels out of the gate. For just 10 bucks more ($109.95 promo price), you can get an ATSC 1.0 antenna tossed into the package.
The gadget connects wirelessly to your home Wi-Fi router and shows up as an app on popular connected TV platforms like Roku and Amazon Fire TV. So basically, it's a nifty means of getting your live broadcast channels into your app-based spread ... plus some FAST content you may or may not want.
But surprise -- there is no ATSC 3.0 support. At least not yet.
On Tuesday afternoon, Next TV caught up over Zoom with Grant Hall, still calling the shots for the intact Nuvyyo as founder and CEO out of the Ottawa home office. The affable Hall and his able PR handlers were pretty stoked to have a warm late-August day outside. The Eastern Ontario city doesn't have many of those left this year, so we kept our questioning brief.
Daniel Frankel: No ATSC 3.0? What the hell are you people up in the Great White North drinking?
Grant Hall: ATSC 1.0 is still the major broadcasting standard. I's going to be around for another five to seven years. It's not going anywhere. So, there's no question we had to support ATSC 1. The question was, could we do ATSC 3.0 right out of the box? And, you know, we started this development a little while ago, back then ATSC 3.0 was evolving, as well, in the earlier stages. And it wasn't quite ready to, you know, for us to bet the farm and to include it into the very first product. We do have ATSC 3.0 on the roadmap, and we're actively working on products with that technology. But for that reason, and for the reason that we wanted to hit a very attractive price point, with the initial product, because we wanted mass adoption ... we wanted to have sub-$100 price for the product. We wanted to have, you know, two tuners to record on board, at least 50 hours for recordings. So all of those challenges kind of led us to ... you know, ATSC 1.0 is the standard, it's the it's the most ubiquitous technology out there. So that's why the first product is ATSC 1.0. It doesn't mean that we're ignoring or not doing ATSC 3.0. It's just not the first product.
Daniel: So what do you think Scripps wants out of this?
Grant: Scripps, obviously, are broadcasters. They have a huge interest in getting eyeballs on their broadcast channels. They've run a program called in a Free TV for a long time, espousing the benefits of antennas and whatnot. So the product that we've been building is really an extension of that -- to provide, you know, a great end user experience for this fantastic over-the-air content. And also to add in some of the other Scripps media and other media to kind of blend in this world of over-the-top TV into this one device, one comprehensive user experience.
Daniel: The device is kind of like Dish Network's AirTV ... except, unlike Dish, Scripps actually seems little less distracted. Maybe you can explain to Next TV's rapt audience of millions how it all works.
Grant: It connects to your antenna on one side, and then it connects to your network via Wi-Fi. And then you download the Tablo app on your Roku, your Android TV, your Fire TV, or whatever device you want to use. And that app connects to the Tablo and brings you all of that over-the-air content and local broadcast content. But we've also added the ability to receive over the internet at launch, I think, 50 FAST channels, and that'll be growing. We've designed it so that from an end-user perspective, you just kind of see the channel, you know, whether it's an over-the-air channel are a FAST channel. And you can watch whatever content you want, you can record it, you can play it back, just like you could with a cable DVR. And then we have a fantastic home screen, which we use to sort this content across all of those dimensions. If you're interested in sports, for example, you'll see what sports are playing right now and what's coming up. But the key component is the over-the-air, because people just don't generally realize that there's this fantastic free HDTV that you can get for free with just antenna. The other key with this device is there's no subscription, so there's no recurring fees.
Daniel: And you can stream any broadcast channel?
Grant: Whatever your locals are. I mean, in most U.S. cities, you generally get between 40 to 60 channels over the air. Very good quality. We've been in this business for about a decade. We know the OTA business like the back of our hand. This is really the opportunity for Scripps to add in the over-top-media, the FAST channels, building the experience.
Daniel: Having a broadcaster with a $659 million market capitalization changes the game quite a bit for your little startup, no?
Grant: It makes a massive difference, right? I mean, as a small startup, we were always, you know, under-financed. It's hardware. It's a bit of a tough market in the startup game. So, you know, at certain times, we had trouble building enough product to meet demand. So with a big partner, that's not a problem anymore. We can build enough product to meet whatever demand that the market generates. Plus, they also have a big megaphone to be able to educate the market and to promote the product. And that's going to make a massive difference in terms of awareness, and, you know, just educating the consumer that, hey, there's this free over-the-air, HDTV device. It's free. And it looks fantastic.
Daniel: So how much bigger will you get with Scripps having your back?
Grant: With this new relationship, we expect almost two orders of magnitude more in terms of what we want to claim over the next couple of years. So it's not just a small linear change, it's an exponential change in terms of what our ambitions are.
The smarter way to stay on top of the streaming and OTT industry. Sign up below.
Daniel Frankel is the managing editor of Next TV, an internet publishing vertical focused on the business of video streaming. A Los Angeles-based writer and editor who has covered the media and technology industries for more than two decades, Daniel has worked on staff for publications including E! Online, Electronic Media, Mediaweek, Variety, paidContent and GigaOm. You can start living a healthier life with greater wealth and prosperity by following Daniel on Twitter today!