Rutledge Sees 2018 Pay Rise 5%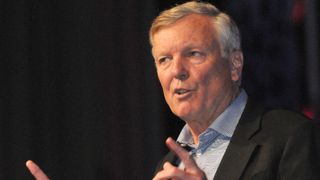 Charter Communications chairman and CEO Tom Rutledge it a 5% raise in 2018, reeling in $8.2 million in total compensation, mainly via an increase in his non-equity incentives for the year, according to the company's annual proxy filing with the Securities and Exchange Commission.
Rutledge's base salary stayed the same at $2 million, but his non-equity incentive plan compensation rose 3.6% from $5.5 million in 2017 to $5.7 million in 2018. He received $419,152 in "other" compensation, nearly double the $233,763 he received the year before.
Other executives has similarly small increases, with president and chief operating officer John Bickham actually making slightly less in 2018 than in the prior year. Bickham's total compensation in 2018 was $4.7 million, down 4% from the $4.9 million he made in 2017. That was due mainly to a change in Bickham's pension value and deferred compensation from $356,409 in 2017 to $1,859 in 2018.
Rounding out the executive suite, chief financial officer Christopher Winfrey received $2.1 million in total compensation, a 3% increase; senior executive vice president David Ellen received $3.2 million, up 3.2%; and chief accounting officer and controller Kevin Howard received $1.6 million, up 2% from the prior year.
The smarter way to stay on top of the multichannel video marketplace. Sign up below.