Paramount Network Expands 'Ink Master' Franchise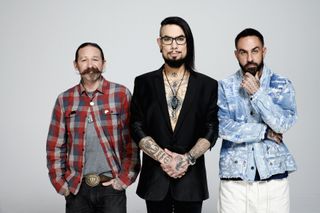 Paramount Network will expand its Ink Master franchise both on linear and in digital as part of a deal announced Tuesday.
The network has renewed the tattoo-themed series for two additional seasons, with season 12 -- Ink Master: Battle of The Sexes -- set to debut June 11 and season 13 premiering in 2020, according to Paramount officials. In addition, Paramount Network has ordered an Ink Master spinoff -- Ink Master: Grudge Match -- which will debut this fall and provide former Ink Master contestants the opportunity to settle vendettas with their biggest rivals against whom they previously competed, said the network.
Ink Master finished its 11th season as the top reality series on ad-supported cable for men 18-49 and a top 10 reality series among Adults 18-49, according to Nielsen.
Paramount Network also announced it has launched an Ink Master-themed YouTube channel based on the series that will feature past and future content from the series.
"The popularity of tattoo culture is at an all-time high, so I am thrilled to expand the incredibly successful Ink Master franchise across multiple platforms and touchpoints for our fans," said Keith Cox, president, Development and Production for Paramount Network and TV Land in a statement. "Each new season of Ink Master brings forth heightened interpersonal drama and the stakes will be raised yet again in season 12's Battle Of The Sexes and the fall premiere of Grudge Match. Additionally, the new YouTube channel will feature the most infamous moments from past seasons, content from upcoming seasons and exclusives that fans won't want to miss."
The smarter way to stay on top of the multichannel video marketplace. Sign up below.
Thank you for signing up to Multichannel News. You will receive a verification email shortly.
There was a problem. Please refresh the page and try again.