Netflix Embraces Micro Services Architecture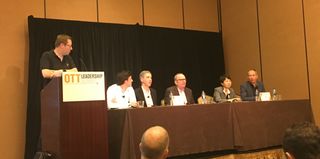 HUNTINGTON BEACH, CALIF. – Count Netflix as among the titans in the video industry which have moved away from monolithic end-to-end software solutions.
"We were one of the early adopters of a micro services architecture," said Xiaomei Liu, senior software engineer for Netflix, speaking on a morning panel at the Streaming Media West conference.
"Micro services" is a broad technology trend, with huge, all-encompassing software solutions being broken up into many independently operating silos.
A decade ago, when it first got into video streaming, Netflix started out with a small team of engineers—a development team that quickly "doubled and tripled in size," Liu explained. Soon, Netflix could find very few software engineers capable of understanding its vast, arcane systems. Problems in one corner of the monolithic software stack impacted multiple services. Deploying new iterations in one area required writing new code across the solution.
"It was really expensive to fix things," Liu said. "The monolithic approach that worked so well for us before had become a major liability."
Today, she said Netflix employs many different engineering teams managing myriad micro services, each collaborating, but each working independently.
The company develops each micro service in house, "leveraging available technology and building only what we have to," Liu added.
The smarter way to stay on top of the multichannel video marketplace. Sign up below.
Thank you for signing up to Multichannel News. You will receive a verification email shortly.
There was a problem. Please refresh the page and try again.