Minim Puts AI-Powered WiFi Management and IoT Security Platform into Motorola and Sercomm Routers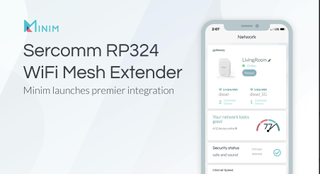 Minim, a maker of AI-driven WiFi and IoT security software, has announced the integration of its platform into Motorola-branded router products from Zoom Telephonics, as well as WiFi mesh extenders made by Sercomm.
"There's a lot to like about Comcast's xFi solution," said Jeremy Hitchcock, founder and CEO of Minim, referring to Comcast's popular WiFi management and IoT security app. "Smaller operators need those kinds of capabilities, too, but if you're not Comcast, you probably don't have the resources to build them yourself."

At the Independent Show in Chicago this week, Minim will showcase the Motorola MG8702 Cable Gateway, a DOCSIS 3.1 cable gateway that has an integrated AC3200 wireless gigabit router with Power Boost WiFi amplification. The MG8702 implements Secure Boot for advanced network security and defense against code substitution.
Minim will also be showcasing integration of its platform into the Sercomm RP324 WiFi Mesh Extender.
Minim offers a care portal for operators to provide smart home support and security services to their subscribers, an self-care mobile app for subscribers (in both iOS and Android versions), as well as platform benefits such as firmware management.
"The integration of Minim capability into our Motorola branded cable gateways provides us with a strong competitive advantage in the service provider market," said Joe Wytanis, president of Zoom Telephonics, in a statement. "Our service provider customers can gain a new source of revenue from home network management tools and can solve the increasing problems introduced by smart home's using multiple wireless devices. New revenue and higher subscriber satisfaction is a powerful combination provided through our Minim-capable cable gateways."
Added Hitchock: "A lot of operators are asking, 'How can I expand what I do?' And we offer a complete care portal. We can see what's going on inside the home [network] and help subscribers diagnose problems."
As far as security capabilities, he noted, "We've seen a thousand Nest cameras know what they do… We tailor security for the specific device and what it needs to do."
The smarter way to stay on top of the multichannel video marketplace. Sign up below.
Thank you for signing up to Multichannel News. You will receive a verification email shortly.
There was a problem. Please refresh the page and try again.