Is the NFL Getting Too Pricey? This Week's Next Text
Also, did Rupert Murdoch end up taking a wild ride he never wanted to get on? And why did 'Winning Time' have to end?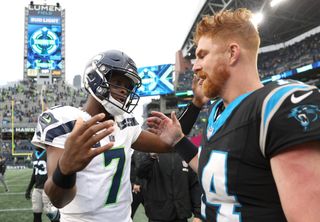 (Image credit: Getty Images)
Each week, Next TV writers Daniel Frankel and David Bloom take a break from the long, slow, merciful fade into oblivion by screaming into the void -- and at each other -- over SMS. Do not gently go into that good night, sisters and brothers.
Daniel Frankel: So I'm rewatching season 2 of HBO's just-canceled Winning Time … and after seeing episode 3, "The Chosen One," I went down a internet research rabbit hole which included not only Larry Bird's austere rural Indiana youth, but also the origins of Bob Seger's "No Man's Land," which is played in a poignant scene in episode 3. While engaging in this little fetishistic exercise, I noticed I'm hardly alone — there was an emotional outpouring in the media-on-media world last week, with lots of middle-aged guys like me who make their living typing into boxes lamenting the fate of this show. Slate's Aaron Bady was probably the most sober out of any of us, noting the declining second-season ratings and the fact that — as we pro-hoops fanboys may have missed — season two was narratively rushed and clumsy. I get numbers are numbers, and scripted television is enormously expensive to produce. But given the fact that Warner Bros. Discovery pays billions to the NBA in licensing, and it just launched a subscription sports tier for Max which includes the NBA, might it have done a little more to save this show?
David Bloom: It is so adorable seeing a cynical, hard-bitten old journalist like you going Full Stan Mode about a canceled TV show, a good one, no doubt, but also a gone one. If only there were more like you, maybe the show would have survived. Actually, if only there were more journalists period. Speaking of which, I'm wondering what the broadcast journalism business will look like soon enough. Warner Bros. Discovery not only canceled one of its few interesting new shows lately, it's now said it will start streaming much of CNN's live feed, plus some originals, on Max. That suggests some new work for journalism types, but perhaps also the first step to a streaming future for CNN that might be much smaller in staffing and ambition, given how things have gone previously with this regime. Similarly, the journalists at ABC News are said to be freaking out about the prospect of King Bob spinning out the linear operations at Disney to someone like Nexstar or private equity. I'm guessing some of the very high-priced on-air talent at ABC, and their support staff, would be among the first to go if/when that happens. Maybe they can all get bit parts in a new series from the Winning Time executives set in a 1990s 24-hour TV newsroom called CNNing Time. Unless Zaz orders the use of AI versions of all his newscasters and then de-ages them for the show.
Daniel: Like the ball, the audience data doesn't lie — but everything seems reactionary and a bit ego-driven with this WBD group. I could be proven wrong in three years, when this roll-up of live sports, news, along with Superman, Lord of the Rings and Harry Potter reboots and prequels draw audiences regularly exceeding 10 million viewers. As for news, our New York friend Alan Wolk came up with a statistic the other day suggesting that 68% of millennials and Gen-Zs seek out local news via streaming. I live with a couple of young dudes from the Gen-Z cohort. I don't think they've ever watched local news in their lives — unless there was some immediate fantasy football or sports-betting informational need to be solved. In the traditional sense, I'm not even sure they even know what news is. An interesting story developed here in L.A. last week — Lincoln Riley, the USC football coach, suspended a young fast-rising Orange County Register reporter for what seemed like really petty reasons. The Register, L.A. Times and the rest of the "traditional" sports media climbed all over Riley and the administration (they eventually caved), but all the fanboys jumped on the journalists — the kid should have been suspended because he broke clearly stated "rules," they said. And this was the kicker expressed on Twitter over and over again — "Who cares about the news media, anyway?" What is it exactly that these young TikTok-crazed arsonists want to watch? Don't say another Superman or Lord of the Rings.
what the LA Times & OC Register has shown is how out of touch they are with their baseit's actually funny how few people in Southern California have their side in thisSeptember 20, 2023
David: If you can adapt Lord of the Rings for TikTok, you might be onto something. I think the more interesting thing is the way younger people access news. There's lots of evidence suggesting that they do that through personalities on sites like TikTok and Twitch who talk about the news, sometimes for hours at a time. You see this most with the Ben Shapiros of the hard right, but it's on both sides of the partisan divide, and into a lot of other sectors as well. That doesn't bode well for any of the big, old, mass news organizations for the long term. In the shorter term, they're just trying to hold onto the aging/dying audiences they have. Michael Wolff, the controversial Fox/Murdoch/Trump chronicler who has a new Murdoch book coming out, said he doesn't think Fox News exists after Rupert dies. (The Ankler just published an excerpt.) And Rupert just stepped back half a step at Fox, leaving Lachlan in charge, for now. The math isn't good in the long run. Lachlan is outnumbered by his more liberal siblings on the family trust who conceivably would push for a big change post-Rupert. It's going to be fascinating to watch.
Daniel: At 92, who knows what imperatives are driving Rupert to step back, but I suspect that far-right ideology drives this man and that he wouldn't cede control without feeling secure that Lachlan will finish — or at least sustain — what he started.
David: I'd consider Rupe more a mainstream media mogul, conservative but hardly far right. He's no Thiel, Adelson or Koch. Mostly, he's dedicated to (and very good at) making lots of money and wielding power to ensure he keeps doing that. But he is also a media Dr. Frankenstein in terms of the populist, anti-democratic cultural monster now raging across the land, unleashed and amplified by his most lucrative creation. Lachlan, meanwhile, prefers life in Australia, hardly center stage for one dedicated to herding Fox News into the future. At most, Rupert's half-step back suggests he wants his other adult children to understand Lachlan should keep sailing full speed straight ahead. All that ignores far bigger trends darkening the future of Fox and News Corp. They're OLD media, with the exception of Tubi and perhaps the Wall Street Journal. The Disney sale stripped off just about anything with a whiff of where media is heading. What's left has declining, aging audiences, albeit still quite valuable ones. What's the future of Fox and News Corp. once Rupe finally really leaves us? How long before the kids sell out? I'd put the over-under on a sale to private equity, or Elon Musk, at two years after Rupert's memorial service.
Daniel: Rupert Murdoch is a "mainstream media mogul" and is "hardly far right?" Bro, what have you been smoking all summer on the beaches of the lower Northern Atlantic? This is a guy who just paid nearly $800 million to a voting machine maker because his network made numerous bullshit claims that the company rigged a presidential election in favor of the opposition party. This is a guy who gave land, materials and labor to Roger Ailes, a well-established Nixon-era ideologue, and said, "Build this for me." Rupert isn't a player. He designed the goddamned game. Sure, capitalism is important to him, but I think you're kidding yourself if you believe that ideology isn't central to his motivation.
David: Maybe get your head out of that Bob Seger deep dive for a minute and read the Michael Wolff excerpt I sent you. Like I said, Dr. Frankenstein's monster has been unleashed, and there's nothing the doctor can do about it now. It's left Fox News in a precarious spot with its own, fracturing audience, which once it dominated. And there are plenty of credible reports about Murdoch's distaste for Trump and Trump's politics, and the golden cage Fox is in (see also, texts and emails uncovered in the Dominion case that feature the harsh opinions from Tucker Carlson and other Fox stars about Trump and the Fox audience insistence that he didn't lose). Just because you built and started the roller coaster doesn't mean you're enjoying the ride now that you're stuck on it. And one need only spend time around the truly far right (see also, Alex Jones, Marjorie Taylor Greene, Lauren Boebert and other avatars of that extreme wing of the GOP) to understand that's not Murdoch's people, just his marks.
Daniel: Speaking of Murdoch's marks, me and the compulsive-sport-betting 17-year-old shortstop just watched a pretty good game on Fox just now between the Seahawks and Panthers (I made sure Reece didn't have a wager on it). Reminded me of an interesting survey we published last week suggesting that half of some NFL fan bases are pirating games. That Next TV story got picked up by Yahoo, and there were more than 400 comments, mainly from readers justifying piracy because they believe access to the NFL has gotten way too expensive. I kind of feel like they have a point … to a degree. Sure, you can see Sunday afternoon games free over-the-air on CBS, NBC and Fox. But we published a study in June suggesting it would set an avid NFL fan back $170 to see all of the NFL's games each week. The latest study noted that 46% of NFL fans root for a team that's not in their market, so they need to pay at least some subscription money to follow their team.
David: Fox, by the way, isn't the only media company clinging to the NFL for audience relevance and revenue this strike-cursed fall, but it's probably the most dependent given its narrowly configured operations. All the networks depend on these expensive rights to prop up their linear lineups these days, which makes sense given the NFL's enduring appeal. But are we reaching the limit on what the NFL can extract from its fans and distributors? Sunday Ticket will cost you around $400 this season (depending on various deals), while NFL Plus, the league's own streaming service, is another $8 a month for half a year or more. Also, you have to pay for ESPN and Amazon Prime, as well as the broadcast networks, to see most everything. Actually attending a game is, of course, increasingly what you do using your corporate expense account, not your own checkbook, given the cost. When do fans, especially younger fans who don't have the bankroll or patience to watch four-hour games, turn elsewhere? And I ask this as a longtime fan and former player who this fall already has watched in person two USC games and his nephew in a high school game on Cape Cod, and dozens of pro and college games on TV. Something's gotta give at some point, besides my spouse's patience.
The smarter way to stay on top of the streaming and OTT industry. Sign up below.
David Bloom of Words & Deeds Media is a Santa Monica, Calif.-based writer, podcaster, and consultant focused on the transformative collision of technology, media and entertainment. Bloom is a senior contributor to numerous publications, and producer/host of the Bloom in Tech podcast. He has taught digital media at USC School of Cinematic Arts, and guest lectures regularly at numerous other universities. Bloom formerly worked for Variety, Deadline, Red Herring, and the Los Angeles Daily News, among other publications; was VP of corporate communications at MGM; and was associate dean and chief communications officer at the USC Marshall School of Business. Bloom graduated with honors from the University of Missouri School of Journalism.