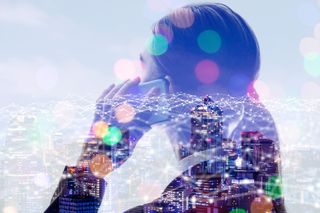 Everybody likes to be first.
So no one was fazed, really, when in the highly anticipated but slow-motion race to deliver 5G — a next generation of wireless broadband — Verizon Communications breathlessly announced the service's first North American rollout.
That rollout was limited to an unknown number of participants in four cities, and the technology was proprietary. Still, the PR blitz glanced at an intended target: Verizon senior vice president and chief technology architect Ed Chan said the initial deployment markets were chosen because that is "where cable is today." One investment banker called it an "existential threat" to the cable industry.
With the top cable operators controlling 65% of U.S. fixed broadband connections, it's understandable that MSOs are a target. But cable's dominant position hardly seems under existential threat right now. After the Verizon launch, analysts for CCS Insights declared the 5G threat to cable as "overblown," predicting that by the end of 2020, 5G fixed wireless solutions will "remain niche."
At the SCTE/ISBE Cable-Tec Expo in late October, NCTA–The Internet & Television Association CEO Michael Powell dismissed 5G as the wireless industry's "latest widget," comprised of "25% technology and 75% marketing."
Chiming in, CableLabs CEO Phil McKinney recalled his days spent at Teligent in the late 1990s, with the wireless company unable to overcome the obstacles of establishing point-to-point communications in big cities — a big part of 5G's plan for global urban domination. "I think 5G is going to have similar issues," he said.
And addressing investors, Charter Communications chief financial officer Chris Winfrey said, "I don't see anything about 5G that ever makes it comparable to DOCSIS 3.1 or DOCSIS 3.1 Full Duplex, or any capability we have through fixed-line service."
Who's right?
The truth is, of course, a lot more nuanced.
5G's Arrived: Sort of
5G isn't really "here" just yet. The first 5G-capable smartphones haven't even hit the market — we won't see a Samsung Galaxy with 5G-capable chips hit the street until well into next year. (It's predicted to arrive in March.)
There's speculation Apple won't debut a 5G iPhone until 2020. And yes, there are fixed wireless 5G services for the home already out there, but it's very hard to tell at this point how many people actually have access to them.
Most agree that in years to come, 5G standards will deliver a significant transformation of mobile internet capabilities, just as 4G LTE standards did seven years ago — and 3G did a decade back.
Backers of 5G call it a "foundational" technology that enables brand-new uses, including connected, self-driving cars, smart agriculture, remote surgery, virtual and augmented reality, and other entirely novel ways for us to entertain ourselves. Some boldly predict it will bring the the "fourth industrial revolution."
HFC Sticking Around
But the vast improvements wrought in network speed and latency won't necessarily lead to displacement of the incumbent DOCSIS-enabled hybrid fiber coax paradigm, which is itself in the process of evolving into a Full Duplex, 10-Gigabit-per-second future.
And with 5G calling for dense clustering of "small cell" network infrastructure, which can efficiently be delivered by MSOs in many areas, the cable industry could likely play a key role in developing a technology that is disruptive to the wireless business.
Essentially, 5G is an international standard, overseen by the 3rd Generation Partnership Project (3GPP), the body that previously worked to harmonize the 3G and 4G cellular standards. Right now, it's a largely a collection of well-founded ideas, designed to evolve over time.
Release 15, the 3GPP's finalized version of its global 5G standard, outlines improved use of higher radio frequencies to deliver faster speeds and lower latency.
Most notably, 5G will deliver far greater speeds than the current 4G standard — or, for that matter, what most wireline services are capable of today. The new standard taps into the so-called "millimeter wave" spectrum, ultra-high frequency radio waves in the range of 24 to 100 Gigahertz that can hold and deliver gobs more data.
Early 5G networks promise speeds as high as 6 Gbps. The standard's developers believe the technology will one day support speeds as high as 20 Gbps.
Latency will be vastly improved, too, going from 20 to 70 milliseconds with 4G to as low as the ultra-responsive sub-1-millisecond range.
Not only does 5G tap into richer frequency ranges, it includes key technologies that maximize performance, allowing the technology to "bond" up to 16 channels at once, for example. In terms of quadrature amplitude modulation (QAM), 5G can pack as many as 256 data points (256-QAM) into the same wave.
And all sorts of Internet of Things applications are being architected into 5G, with the standard supporting density of up to 200,000 sensors in a 1 million square kilometer area.
For 5G, the big variable is spectrum, with ultra-high frequencies requiring very short-range broadcast of signals, thus the need for so many "small cell" devices. These short-throw, ultra-high frequencies are also prone to all sorts of interference, falling leaves included.
The Federal Communications Commission is actively working to open access to these high frequencies. Last week, the agency voted unanimously to free up spectrum in the upper 37 GHz (37.6-38.6 GHz), 39 GHz (38.6-40 GHz) and 47 GHz (47.2-48.2 GHz) millimeter wave bands.
Although the emergence of — and hype surrounding — 5G is an international phenomenon, few companies around the world can match the exuberance of the top U.S. wireless carriers, Verizon, AT&T, T-Mobile and Sprint.
In fact, Verizon was so eager on 5G that it couldn't wait until December to launch. That's when the 3GPP's so-called 5G New Radio (5G NR) standard was finalized, ensuring that all 5G hardware and software is on the same page.
In October, the carrier launched its $70-a-month 5G fixed wireless service for homes and businesses, with professionally installed customer premises equipment built around Verizon's proprietary GTF standard. The service is reportedly capable of delivering downstream speeds of 940 Megabits per second, but Verizon said the average is around 300 Mbps. At some point in the future, Verizon has pledged to turn around and upgrade everyone's CPE and software to 5G NR, truck rolls included.
Not that it appears to be a huge risk at the moment: Verizon hasn't released a coverage map for the seemingly very limited portion of cities like Los Angeles that have its new 5G service.
Indeed, it may be premature to declare Verizon to be actually out in the market with a true 5G deployment. But the carrier seems intent on investing heavily in the standard nonetheless. Last week, when it announced voluntary layoffs of 10,600 workers, it declared the cost savings earmarked for 5G infrastructure.
Surfing the Broadband Waves
"It's a totally different way to doing broadband, meaning, instead of having a cord into the house, you have a wireless wave into the house, but the experience is the same," Verizon CEO Hans Vestberg said at the UBS Global Media and Communications Conference earlier this month. "And I think that's a big opportunity for us."
Verizon also plans to deploy a standards-based 5G mobile service next year. Overall, 5G activity should ramp up significantly throughout 2019.
AT&T is about to light up fixed home 5G services in 12 cities, working primarily with technology partners Ericsson, Nokia and Samsung, and mixing a range of mid- and low-band spectrum in suburban areas with millimeter wave spectrum in urban areas. The No. 2 U.S. carrier plans to be ready to go in around a third of the U.S when the first 5G mobile devices hit the market it the first half of 2019.
"I'm probably about as energized about 5G as any technology innovation that we've ever deployed," said AT&T chairman and CEO Randall Stephenson, also speaking at the UBS Global Media show. "It's such a radical game-changer to have the kind of capacity, performance of a network with — I'm going to exaggerate — but no latency. It's effectively a no-latency network."
While AT&T has big consumer-facing plans, IoT will get a big push, too.
"Our early priority for 5G will be enterprise applications," Stephenson said. "We're already having a lot of interest in people pursuing robotic plants."
Nos. 3 and 4 carriers T-Mobile and Sprint, meanwhile, have also announced both home-based and mobile 5G rollouts for 2019. Notably, amid their attempts to sell their $26.5 billion merger to regulators, the pair are pitching the notion that the free market needs a powerful third provider of fixed internet service, beyond Comcast and Charter.
"What's really resonated with many of the agencies on the Hill and in the states is the fact that you have two going to three," T-Mobile executive vice president and chief financial officer J. Braxton Carter told attendees at the Bank of America Merrill Lynch Leveraged Finance Conference earlier this month.
"That the two scaled incumbents control two-thirds of the cash flows, the vast majority of subscribers are basically oligopolists to begin with, or let's just call it a predatory duopoly," Carter added. "And the creation for a third scaled player … really increases the environment from a two-player market that's out there."
While the cable industry doesn't yet believe the wireless business can launch a true replacement for wireline broadband — at least not without cable infrastructure — there seems to be agreement that the wireless guys are doing a better job right now, marketing-wise, claiming the network of the future.
At Cable-Tec Expo, Powell lamented the fact that cable hasn't managed to effectively tie its own innovative work with Full Duplex and Extended Spectrum DOCSIS into the national lexicon with a term like "10G" — a reference to the theoretical but well-founded 10 Gbps speeds cable can expect to deliver in just a few years.
Indeed, the cable industry is arguably as far along with these wireline innovations as wireless is with 5G. But we don't hear nearly as much about them.
Despite reliably delivering on its own, relatively muted technology hype for decades, Powell said that cable is getting "left behind in the nation's optimistic narrative of the future."
Us and Them
"We have a better platform to deploy [5G] technology, I think, than the cellular industry does, because we are fully distributed from a high-capacity wireline perspective," Charter chairman and CEO Tom Rutledge said at the Goldman Sachs 27th Annual Communacopia Conference in September.
"If you think about what 5G is, it is small cells," Rutledge added. "Small cells mean you needs lots of wired line connectivity to make the small cells work. We think we are actually in a better position to do that than traditional cellular companies. Yes, 5G can be used to compete against us. It is very capital-intensive."
Daniel Frankel is the managing editor of Next TV, an internet publishing vertical focused on the business of video streaming. A Los Angeles-based writer and editor who has covered the media and technology industries for more than two decades, Daniel has worked on staff for publications including E! Online, Electronic Media, Mediaweek, Variety, paidContent and GigaOm. You can start living a healthier life with greater wealth and prosperity by following Daniel on Twitter today!
Thank you for signing up to Multichannel News. You will receive a verification email shortly.
There was a problem. Please refresh the page and try again.