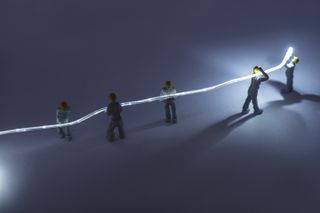 The Nationwide hunger for bigger and better broadband is leading to a major consolidation of fiber-optic networks across the country, as private-equity players, telcos and cable operators scramble to feed the need for speed.
For cable operators, the decision to build or buy fiber capacity is a tricky one, weighing the cost and time associated with digging trenches and laying fiber lines against purchasing an existing network and integrating it into their own operations. But as customer demand for higher and higher speeds grows and the number of available network operators starts to dwindle, many companies are taking the second option, buying up regional carriers to beef up their offerings and driving take-out multiples skyward.
Over the past seven years, the fiber business has changed dramatically from an industry dotted with dozens of smaller players with limited access to capital to one dominated by a core of about nine well-financed, highly motivated companies looking to increase their holdings as quickly and as robustly as they can.
Driving most of that consolidation is the perception that fiber — those sheathed glass filaments that deliver blindingly fast internet speeds via pulses of light — is more in demand than ever.
Gigabit Rollouts, Commercial Pushes
Over the past five years, broadband has overtaken video as the top revenue producer at nearly every U.S. cable company. And just as quickly, broadband speeds have quadrupled in the past five years from an average of 25 Megabits per second to more than 100 Mbps. Today, many operators are increasingly making available 1 Gigabit-per-second services, which require fiber to go deeper into the network. Add to the mix the evolving commercial-services business — where fiber connections for enterprise clients are the rule — and the advent of 5G wireless services, which use small cells that need to be connected via fiber lines, and demand is expected to balloon.
Crown Castle International, a communications services provider with 70,000 route miles of fiber, 65,000 small cells and more than 40,000 towers across the country, also believes that 5G will present a big opportunity for fiber companies.
"[W]e believe the network infrastructure needed to support 5G will dramatically increase the demand for our tower and fiber assets over time," Crown Castle CEO Jay Brown said on the company's April 18 first-quarter earnings conference call. "It is truly an exciting time in our industry. And in many ways, it reminds me of several other points in time over the past two decades as we are currently benefiting from the significant ongoing investment in today's networks while also looking forward with great anticipation of what lies ahead.
"How exactly the investment in 5G ultimately transforms the way we live and work is yet to be determined," Brown continued. "But if past is prologue, I suspect most are underestimating the magnitude of the change and the corresponding opportunity for us."
According to Deloitte, there will be a need for $130 billion to $150 billion in fiber infrastructure investment by 2022 to support broadband competition, rural coverage and wireless densification.
Much of the traffic currently traveling over broadband lines is video and, per Deloitte, streaming video and augmented and virtual reality will continue to put a strain on existing infrastructure. The researcher estimated traffic would rise at an estimated compound annual growth rate (CAGR) of 181% through 2020. Add to that the expected massive increase in devices in the home — research house Gartner has estimated that affluent homes could have as many as 500 connected devices by 2022 — and WiFi and cellular networks could be pressured nearly to the breaking point.
"Without sufficient fiber networks, innovation in new use cases, new applications and new devices will likely be stifled," Deloitte wrote. "Deep fiber deployment is the crux of the new capacity required, including fiber to the home/business and fiber backhaul to support wireless densification."
Rising Demand, Without 5G
CoBank, which provides loans, leases and other financial services to agribusiness and rural infrastructure in all 50 states, predicts that new network architectures and applications will increase data traffic by 65% over the next three years. And that doesn't even account for 5G, the ultra-high-speed wireless data technology that is expected to usher in the era of the Internet of Things (IoT) and autonomous vehicles, which requires extensive fiber connections between its network of transmitters.
All of this has led to a near feeding frenzy over fiber by large infrastructure funds, private-equity investors and strategic buyers. Since 2014, private-equity players such as Crown Castle, Zayo and EQT Infrastructure have bought up small fiber providers, connecting their networks to offer regional service.
Seeing an untapped opportunity, other financial players were attracted to the business:
● Macquarie Infrastructure Partners, in conjunction with Uniti Group, announced plans to acquire Bluebird Network;
● EQT took a majority stake in Spirit Communications, connecting it with an earlier acquisition, Lumos Networks, for a fiber network between Pittsburgh and Atlanta;
● And Paris-based Antin Infrastructure Partners bought FirstLight Fiber, a Northeast provider of fiber-optic data, internet, data center and cloud services to enterprise and carrier customers.
Now the consolidators are consolidating. Earlier this month Zayo Group, one of the largest players in the fiber industry with more than 130,000 U.S. route miles of fiber, agreed to be purchased by Stockholm, Sweden-based EQT Infrastructure and Digital Colony for $14.3 billion in cash.
CoBank expects the frenzy to slow down a bit as national fiber network firms have been swallowed up by larger entities. But that could open the door further for smaller deals between regional local-exchange carriers (RLECs) and cable operators, CoBank lead communications economist Jeff Johnston said in an interview.
"As far as any meaningful deals are concerned, the reality is there are just not a lot of assets out there left to be acquired by infrastructure funds or the likes of [RCN parent] TPG that look at rolling up a lot of these regional cable operators," Johnston said. "It's our opinion where we could potentially see as a next step in this whole consolidation wave is the much smaller regional RLECs and cable companies that have built out fiber footprints can become attractive take-out candidates for some of these investors, as they seem to have an insatiable demand for fiber right now."
Already, small cable operators have had their eyes on regional fiber companies. In April, Cable One agreed to purchase Fidelity Communications for $529.5 million in cash, and in November it purchased Clearwave Communications for $358.8 million. Both companies have differences — Fidelity provides residential video and broadband service to more than 100,000 homes and 20,000 businesses, while Clearwave offers regional fiber service in Southern Illinois — and similarities, as both have extensive fiber networks. Fidelity derives more than half of its revenue from broadband and has a 1,600 route-mile fiber network.
Cable One chairman and CEO Julia Laulis said the Missouri-based Fidelity fills in gaps in the cable operator's coverage. "Fidelity, if you think about a doughnut, there's sort of a hole in the middle of us, they're in Missouri, Illinois, they're in Texas, Louisiana and Oklahoma," Laulis said on the cable firm's first-quarter analyst call. "So they are just like in all-around Cable One markets."
Clearwave, which has 2,400 route miles of dense fiber, gives Cable One additional capacity and the ability to offer more robust business services. In Cable One's Q4 earnings call, Laulis touted Clearwave's fiber network, its proximity to Cable One markets and its lineup of enterprise customers."There's a lot to be excited about with Clearwave," she said.
Said Johnston: "I definitely think that we'll continue to see the small regional deals that we have seen so far, whether it's just a diversification play, scale or just owning an asset that is appreciating in value. Those or some of the drivers that are behind what we are seeing now."
Cable One isn't the only cable operator with its sights on fiber:
● In October, midsized operator Atlantic Broadband bought South Florida fiber company FiberLight for an undisclosed sum, adding 350 route miles of fiber to its network in that state.
● In January, Vast Broadband bought NTS Communications, adding 2,700 route miles to its fiber network in Texas and Louisiana.
● And in March, Schurz Communications purchased Vermont municipal fiber carrier Burlington Telecom for $30.8 million.
"It is probably safe to assume we'll see more," senior Kagan research analyst Tony Lenoir said.
One of those buyers could be Atlantic Broadband. "We do both [build and buy]. I think we will be more aggressive on buying now," ABB vice president of business sales Gerardo Garza said in an interview, adding that with a purchase, the operator gets the added benefit of an existing revenue stream and an embedded customer base.
Already, he said the FiberLight purchase is paying off in additional customers and capabilities.
"Now we are a player in the entire South Florida market, which is one of the biggest markets in the U.S.," Garza said, adding that the deal put ABB closer to several thousand more customers and opened the door to serve larger enterprises.
Future deals are likely to carry higher price tags. According to Johnston, fiber valuations for private deals have increased by more than 30% over the past 18 months, with most deals priced at cash-flow multiples in the high teens and low 20s.
Cable Ops Buying Already
For cable operators, fiber builds have been an integral part of their business for years. Comcast, Charter, Altice USA, Cox Communications and even midsized cable companies like Mediacom Communications have pumped huge amounts of capital to fiber their networks.
Cox made a strategic investment in Unite Private Networks (UPN), a Kansas City, Missouri-based fiber network and services provider to hospitals, schools, governments, carriers, data centers and enterprise business customers, in 2016. Cox president Pat Esser identified fiber infrastructure as an attractive long-term investment. While Cox hasn't made a big fiber buy since — it did buy Level 3's metro fiber assets in Albuquerque, New Mexico last year — it still considers infrastructure a good business.
"We haven't purchased additional fiber companies since our strategic investment in UPN, but we think there is great value in infrastructure companies," Cox spokesman Todd Smith said. "They also create additional opportunities for us to serve commercial customers." Smith said Cox has a significant stake in another infrastructure company, InSite Wireless, and has teamed with them to deploy some distributed antenna systems for Cox Business customers.
One example: the Las Vegas Convention Center, which contains the equivalent of 14 cell towers to complement its 2,100 WiFi access points.
Altice USA also is speculated to be considering selling off its business fiber unit Lightpath, which caters mainly to large enterprise customers. Lightpath generates about $200 million in cash flow per year, according to some analysts reports, and could attract a price of about $3 billion.
Building out a fiber network is still a viable choice for many. Altice USA is expected to cross the finish line in its five-year fiber-to-the-home project for its New York metro footprint in the next few years and has already deployed the service in select areas. For smaller operators, though, cost and time to market can be prohibitive.
Altice CEO Dexter Goei said recently the FTTH rollout is underway, with 2 million homes designed, 1 million passed and 600,000 ready for service by year-end, with plans to ramp up.
According to Deloitte, building fiber can cost between $600 and $1,800 per home passed in urban and suburban areas, not including customer premises equipment.
That's a considerable departure from the estimated $300-to-$500-per-home-passed average buildout cost for coax and hybrid fiber coaxial networks. But that may not be the biggest obstacle. Building networks takes time. And time, in the world of competitive broadband and soon-to-be-coming 5G services, is of the essence.
The smarter way to stay on top of the multichannel video marketplace. Sign up below.
Thank you for signing up to Multichannel News. You will receive a verification email shortly.
There was a problem. Please refresh the page and try again.