The Five Spot: Frank Cicha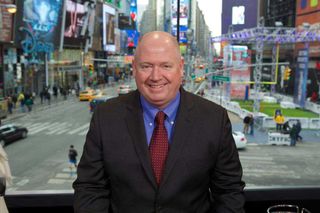 BONUS FIVE
What's on your DVR?
Netflix's Lost in Space, HBO's Barry and Silicon Valley and I'm anxiously awaiting season two of Hulu's The Handmaid's Tale.
Favorite apps?
WLIR-FM, Exit Strategy
Favorite podcast?
Gilbert Gottfried's Amazing Colossal Podcast
Books on your nightstand?
Every Night is Saturday Night by Wanda Jackson, Infinite Tuesday by Michael Nesmith
A memorable recent meal?
Jack in the Box in Las Vegas while I was at NAB: three tacos and a small drink for $3!
Programming at the Fox Television Stations, under senior VP Frank Cicha, has forged an innovative path, deciding years ago to lean heavily on day-and-date programming in order to encourage live viewing, and being all in on testing syndicated shows. The latter is a model that not every syndicator or station group has picked up on, but it's gone from being unique to almost status quo ahead of launching a show. "We want to continue to do it all year along," Cicha said. "We don't even look at these shows as tests; they are limited series."
Once The Walt Disney Co.'s proposed acquisition of 21st Century Fox goes through (presumably sometime next year) the stations will remain with new Fox, a much leaner company that will rely heavily on news, sports and live events. But the stations long ago adopted that strategy. B&C contributor Paige Albiniak spoke with Cicha about both the future of the stations and of syndication in general. An edited transcript follows.
You guys just expanded local newscasts in several markets with more to come. Why was that important?
While it's certainly important during political seasons to have good news product and it's nice to be able to keep all the inventory in general, for us, it's a programming strategy. We have strong news shows, and our chances of doing a better number in the next time period increases with news.
Are you ever concerned that there's too much local news and thus too much local news inventory?
There are times when someone will say we shouldn't expand because the market can't sustain more inventory but it still might be the best chance for us to get ratings. News expansion doesn't necessarily mean traditional news. For example, we have The Jason Show at KMSP Minneapolis. There's a show we are doing in Washington, D.C., called Like It or Not that's both a news expansion and a local production that builds off news talent.
How are you tweaking your newscasts to be more relevant to millennials, Gen-Z and even younger audiences?
I think the idea of millennials coming to our local stations to watch local news is a stretch. I think that's where the other platforms come in. Through those, you can at least make people aware of your brand and aware that you are on. It's extremely important that you hold on to the viewers that you have, so we continue to try to do that and build on that demographic to any degree that we can.
You guys have spent the last several summers doing tests. Why is that important?
We got into it full bore a few years ago, trying as many as seven news shows over the summer. With more at-bats, you have a bigger chance of getting a hit. The other part of that is providing our viewers with more original programming so that we don't go dark from the end of May to the beginning of September. … We may be curtailed a little bit because of the World Cup this year from mid-June through mid-July, but we'll still have a fair amount of chips on the board.
What are your plans for tests this summer?
There's some local stuff that we'll expand, and a couple that may just be for one market. There are also a couple of bigger ideas that we're going to do. We'll be busy, perhaps not as busy as the last couple of years but we are also open to doing this year-round. We didn't replace [NBCUniversal's] Harry so we have some scheduling flexibility and we will be willing to try something in September or October if someone has a show.
Broadcasting & Cable Newsletter
The smarter way to stay on top of broadcasting and cable industry. Sign up below.