FCC Nominee Gigi Sohn Bows Out
Democrat says she is done with unrelenting attacks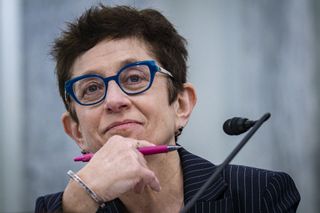 (Image credit: Pete Marovich/The New York Times/Bloomberg via Getty Images)
Democratic FCC nominee Gigi Sohn has asked President Joe Biden to withdraw her nomination after battling for most of two years against a concerted effort to block her from joining the agency, saying that battle and what she saw as ad hominem attacks, had taken too heavy a toll.
"Last night after discussions with my family and careful consideration, I made the decision to ask President Biden to withdraw my nomination to the Federal Communications Commission," Sohn said in a statement. (The full statement is below.)
While West Virginia Democratic Senator Joe Manchin this week said he would vote against Sohn, she was already planning to withdraw her nomination, according to a source familiar with her thinking.
Sohn, a longtime public advocate who would have been the first openly gay commissioner as well as the first with a public advocacy background, was nominated twice and went through three confirmation hearings but was unable to secure all the Democratic votes in the Senate she would have needed to be confirmed.
She faced major headwinds from industry over her support for network neutrality rules and broadcast regulations.
She also drew criticism for some tweets critical of Fox News Channel that angered conservatives.
Sen. Ted Cruz (R-Tex.) a member of the Senate Commerce Committee that vetted her nomination and one of Sohn's harshest critics, was celebrating the news.
"The withdrawal of Ms. Sohn's nomination is a major victory and represents a strong bipartisan agreement that we need a fair and impartial candidate who can receive the support needed for confirmation," he said. "The FCC is not a place for partisan activists; free speech is too important. Now, it's time for the Biden administration to put forth a nominee who can be confirmed by the full Senate and is committed to serving as an even-handed and truly independent regulator."
The general wisdom was that the "bipartisan agreement" came down to only one or two Democrats who had some issues with Sohn, along with Republicans who were massed against her given her progressive resume and at the urging of industry players.
There was no celebration at INCOMPAS, whose members include competitive carriers and net neutrality fans in the tech community.
"Throughout this entire process, Gigi has acted with the utmost integrity and honesty," INCOMPAS CEO Chip Pickering said. "Despite the relentless attacks on her character, she stood strong and never wavered in her commitment to fight for competition-based policies. While we are disappointed in this result, we are extremely proud of her and look forward to finding ways to work with her to advocate on behalf of consumers and competition."
Evan Greer, director of network-neutrality proponent Fight for the Future, said: "Let's be perfectly clear: Democrats promised to restore net neutrality and FCC oversight of telecom monopolies, and instead they caved to corporate interests and homophobic smears. The same telecom companies that were caught red-handed funding a flood of fraudulent comments to the FCC and paying for misleading robocalls to senior citizens to kill net neutrality rules now will seemingly get to pick their own regulator."
"While I am disappointed, I respect Gigi Sohn's decision to withdraw her nomination as an FCC Commissioner," said Senate Commerce Committee Chair Maria Cantwell (D-Wash.). "Throughout the past 16 months, Ms. Sohn has demonstrated her expertise in telecommunications law, deep experience and commitment to ensuring that every American has access to affordable broadband regardless of where they live. More importantly, I commend her for the integrity and fortitude she displayed in the face of a coordinated, hate-fueled campaign to malign and distort her character and record. I thank Ms. Sohn for her willingness to serve and her continued efforts to bridge the digital divide in America."
"The industry won. Consumers lost," said former Fox and Disney executive Preston Padden, a big supporter of Sohn.
"Senate treatment of this nomination has been, from beginning to end, sad, shoddy, and shameful, and its treatment of Ms. Sohn a despicable dereliction of duty and honor," said Mike Copps, special adviser to Common Cause and a former FCC chairman. "A win for big-spending special interests, to be sure, but a tragic loss for the common good."
Sohn's full statement is below:
Statement of Gigi Sohn
Last night after discussions with my family and careful consideration, I made the decision to ask President Biden to withdraw my nomination to the Federal Communications Commission. When I accepted his nomination over sixteen months ago, I could not have imagined that legions of cable and media industry lobbyists, their bought-and-paid-for surrogates, and dark money political groups with bottomless pockets would distort my over 30-year history as a consumer advocate into an absurd caricature of blatant lies. The unrelenting, dishonest and cruel attacks on my character and my career as an advocate for the public interest have taken an enormous toll on me and my family.
Unfortunately, the American people are the real losers here. The FCC deadlock, now over two years long, will remain so for a long time. As someone who has advocated for my entire career for affordable, accessible broadband for every American, it is ironic that the 2-2 FCC will remain sidelined at the most consequential opportunity for broadband in our lifetimes. This means that your broadband will be more expensive for lack of competition, minority and underrepresented voices will be marginalized, and your private information will continue to be used and sold at the whim of your broadband provider. It means that the FCC will not have a majority to adopt strong rules which ensure that everyone has nondiscriminatory access to broadband, regardless of who they are or where they live, and that low-income students will continue to be forced to do their school work sitting outside of Taco Bell because universal service funds can't be used for broadband in their homes. And it means that many rural Americans will continue the long wait for broadband because the FCC can't fix its Universal Service programs.
It is a sad day for our country and our democracy when dominant industries, with assistance from unlimited dark money, get to choose their regulators. And with the help of their friends in the Senate, the powerful cable and media companies have done just that.
I want to thank President Biden for his faith in me and for my champions in the Senate who defended me at every turn. I especially want to thank the dozens of people who volunteered their time and energy to help me through this process, as well as the over 400 organizations, companies and trade associations, and hundreds of thousands of individuals who registered their support with the Senate. I will forever be grateful for their efforts on my behalf.
I hope the President swiftly nominates an individual who puts the American people first over all other interests. The country deserves nothing less. ▪️
Broadcasting & Cable Newsletter
The smarter way to stay on top of broadcasting and cable industry. Sign up below.
Contributing editor John Eggerton has been an editor and/or writer on media regulation, legislation and policy for over four decades, including covering the FCC, FTC, Congress, the major media trade associations, and the federal courts. In addition to Multichannel News and Broadcasting + Cable, his work has appeared in Radio World, TV Technology, TV Fax, This Week in Consumer Electronics, Variety and the Encyclopedia Britannica.