Eutelsat Picks Thales for New Broadband Bird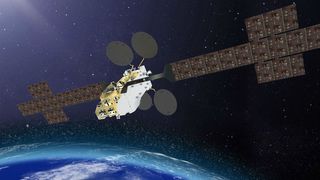 Eutelsat said it's going with Thales Alenia Space on a new high-capacity broadband satellite that replaces a joint investment Eutelsat had with Viasat for a satellite that was to cover Europe, Africa and the Middle East.  
The new order is for a next-gen satellite system called Konnect VHTS (Very High Throughput Satellite) that will deliver fixed broadband and in-flight connectivity but isn't slated to enter service until 2021. The new 6.3 ton satellite will support Ka-band capacity of 500 Gbps, they said.  
RELATED: Broadband's Space Race Heats Up  
Thales is also on board to develop a satellite and ground segment to support the new satellite.  
Tied in, the project will come with a multi-year distribution commitment from Orange and Thales, including a retail partnership with Orange for Europe's fixed broadband market, and one with Thales that's focused on the government services market.  
The new agreement replaces a joint investment with Viasat for a ViaSat-3 satellite for that portion of the world. Eutelsat noted that its investment in Konnect VHTS is covered by its capex plan that averages €420 million (US$514.71 million) per annum.  
ViaSat, which has launched services on its new ViaSat-2 satellite, has already started the construction phase on a new system of three satellites (collectively referred to as ViaSat-3) that will give the company global coverage and access to more than 1 Tbps of network capacity per satellite. Under that plan, the first ViaSat-3 satellite is slated for a 2020 launch and to enhance coverage in the Americas, with a second one, for the EMEA region, to be launched about six months later. A third is planned for coverage in the Asia Pacific region.  
RELATED: Viasat Launches 100 Mbps 'Platinum' Tier with Unlimited Data 
In a statement, Viasat president and COO Rick Baldridge confirmed that it will not be moving forward with Eutelsat on a deal for use of the ViaSat-3 satellite, citing Eutelsat's "decision to pursue a local market alternative."
"As we commented previously, negotiations on the ViaSat-3 deal were highly complex," Baldridge added. "While we had hoped to reach an agreement on new capacity over Europe, Middle East and Africa (EMEA), we were never able to get over some of the fundamental principles. "  
Viasat, he said, "remains excited about its ViaSat-3 program for EMEA, which is well underway on track," adding that the company believes there's "significant interest in the program from prospective regional partners."  
He added that the news involving ViaSat-3 has "no direct impact on existing contracts," as the joint venture, which has been in operation for more than a year, will continue to be governed under the existing agreements. Additionally, Viasat's joint ownership of the KA-SAT satellite is currently serving Viasat's commercial aviation and government customers as well as direct-to-home residential subscribers throughout Europe.  
Baldridge also noted that there was no binding agreement with Eutelsat for the ViaSat-3 EMEA satellite, and that Viasat's capital plan is not depending on Eutelsat's participation to proceed with the ViaSat-3 program.  
Viasat shares dropped $3.29 (4.91%) Thursday, closing at $63.75 each.   
The smarter way to stay on top of the multichannel video marketplace. Sign up below.
Thank you for signing up to Multichannel News. You will receive a verification email shortly.
There was a problem. Please refresh the page and try again.