Dish Unveils New Spokeslistener Spots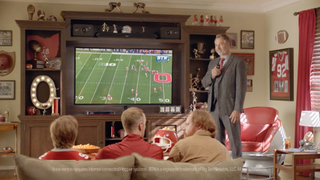 Dish Network unveiled a pair of new TV ad spots from its latest ad agency of record – The Richards Group – that steer its "Spokeslistener" campaign in a new creative direction.
The two spots highlight Dish college and NFL football offerings – "Road Trip," which emphasizes Dish customers have access to every major Division I college football game; and "Extra" focuses on Dish's current NFL Red Zone promotion so customers get extra action at no extra cost.
Related: Dish Campaign to Focus on Listening to Customers
Dish launched the Spokeslistener campaign in February 2017, part of its "Tuned Into You" promise. In a statement, Dish said with The Richards Group – which became its agency of record in March -- the spots take a new creative approach – "The Unheard."
Related: Dish Taps Richards Group as New Creative Ad Agency
According to Dish, "The Unheard creative features a Spokeslistener who's uniquely in tune with identifying those who have felt unheardby their past TV providers. He speaks less, and he listens more."
The smarter way to stay on top of the multichannel video marketplace. Sign up below.