Cord Cutting Remains Decidedly U.S. Phenomenon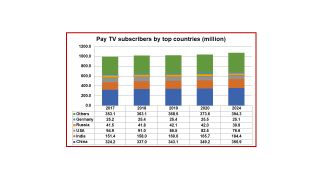 The number of U.S. pay TV subscriptions will fall from around 85.5 million this year to about 76.6 million by 2024. But the pay TV ecosystem will continue to grow over the next five years and big markets like China and India.
That's the conclusion of Digital TV Research, which identifies the U.S. as the only significant global pay TV market in which the ecosystem is actually in recession.
According to the research company, the world's biggest pay TV market, China, is expanded to expand its customer base from a current level of 343.1 million to 355.9 million over the next five years.
India is projected to grow from a current level of 160 million pay TV consumers to 184.4 billion over the same span.
Notably, Digital TV Research suggests that by 2024, European countries including Germany and Russia will start seeing cord cutting.
Weekly digest of streaming and OTT industry news
Thank you for signing up to Multichannel News. You will receive a verification email shortly.
There was a problem. Please refresh the page and try again.